Rain and WIND Advisory on tap for Washington and Dodge Counties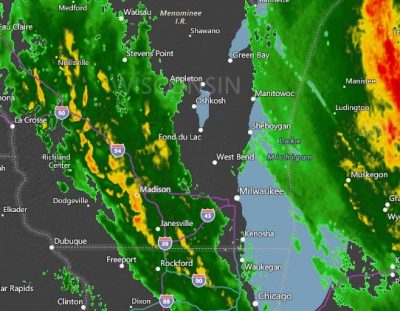 Oct. 23, 2017 – Washington Co., WI – A damp overnight and some windy situations ahead for neighbors in Washington and Dodge Counties as the National Weather Service has issued a wind advisory in effect from 7 a.m. – 7 p.m. Tuesday.
Stats below from accuweather.com
TIMING…Northwest winds will begin to increase overnight into early morning Tuesday, with the strongest winds from late morning Tuesday through Tuesday afternoon.
WINDS…Northwest winds 20 to 30 mph with occasional gusts of 40 to 45 mph. The strongest gusts will occur from late morning Tuesday through Tuesday afternoon.
IMPACTS…Loose objects and small tree limbs could be blow about. High profile vehicles will be buffeted by gusty winds.
PRECAUTIONARY/PREPAREDNESS ACTIONS…
A Wind Advisory means that wind gusts of 45 mph are expected.Winds this strong can make driving difficult…especially for high-profile vehicles. Use extra caution.