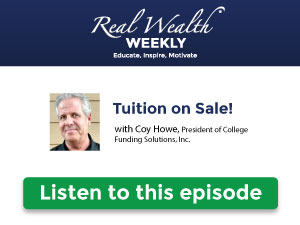 March 1, 2017 – Kewaskum, WI – Don't pay more than you have to for clothes, food, and… tuition? College is not only important and expensive, but it is also a business with marketing resources and "deals" to give out at its discretion.
But how do you know if you're getting a good offer? Educational Consultant Coy Howe learned the ins and outs so prospective students have someone on their side, and now he shares his experience with you.
Next Week on Real Wealth® – No Necktie Needed
Learn how Financial Professional Juli McNeely paved her way in a male-dominated industry, and how women everywhere can and are doing the same.