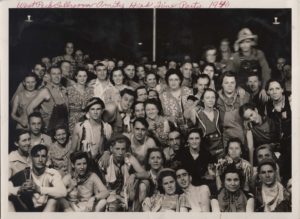 This week's photo, courtesy Wendi Dreher of Kewaskum, features a 'hard-times party' from the 1940s. A group from Amity was celebrating at the West Park Ballroom.

There were quite a few people who spotted someone they knew including David Martin who found his parents in the picture.

"See that white pole coming down and that little head peaking up, that's my mother Emma Martin and Joe Martin is right next to her," he said.
Others Martin identified included Carl Hirschboeck. "He's the one with his tongue hanging out. The gentleman in the bib overalls is Louis Plzak, to the left are George and Marcella Bruendl and below are Ralph and Florence Metzger."

Rose Martin also identified her mother and father in law Joe and Emma Martin. "He worked at Amity from the time he came here in the 1930s until the 1960s," said Rose Martin. "He always spoke highly of the product and I carry an Amity clutch purse he gave me to this day.

Teresa Gruber Miller found her family. "My mother, Elsie Riesch Gruber, is right in front and the guy with his arm around her is Wally Wiedmeyer," she said.

Mary Ann Kissinger, 90, found several familiar faces. "My husband Alfred 'Dodge' Kissinger is in the lower left corner and next to him is Loretta Wiedmeyer Weber," said Kissinger about the woman with the pipe in her mouth.

Kissinger also tagged the guy in "the middle with the goofy hat is Lyle Salter and behind him is Walter Ohman and next to him is Ethel Ohman."
Above Salter was "a guy they called 'Cookie' Metzger."
Also in the photo were Russell Uhlmann, Georgia Hetzel, Mike Kerry, Evelyn Chapman and on the far right side of the photo Florence Birzer as the woman dressed in bib overalls.