Reel in Some Late Winter Pike | By Sam Ubl courtesy Legendary Whitetails
Feb. 18, 2019 – Washington Co., WI – Ice fishing for pike and chasing flags all day can be a riot.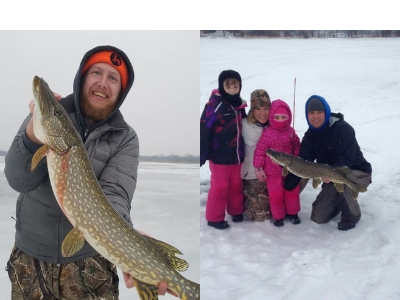 But lots of action usually means weeding through a lot of smaller fish to eventually pull in a trophy. When the action is hot, your hands get cold. That's the trade-off. Handling wet braided tip-up line in freezing temperatures, unhooking, observing, releasing, and re-baiting all require a touch of the hands. When it's bitter cold outside, sometimes the thrill of action can wear off as quick as it showed up.
Targeting bigger fish often means catching less, but the reward can be well worth the wait. Late winter ice fishing is one of the best times of the year to catch trophy pike. Let's explore the why, when, and where to get in on the action and what to use.
Why Target Big Pike During Late Winter?
As winter progresses, oxygen levels slowly climb in shallow water, especially the bays. The increase of oxygen rejuvenates the underwater world and draws in a lot of panfish. If you notice a trend of pan fishermen moving in shallower and shallower, take note and be prepared to move in yourself.
Click HERE to read more winter pike fishing tips.