Register today for Step Forward to Cure TSC at Regner Park on October 6 | By Erica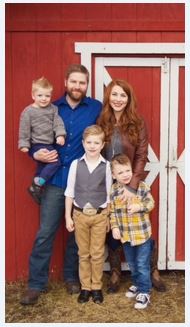 Sept. 28, 2018 – West Bend, WI – On Saturday, Oct. 6 there's going to be an event held at Regner Park Centennial Shelter to benefit research for Tuberous Sclerosis Complex.
TSC is a genetic disease that's linked to autism and epilepsy.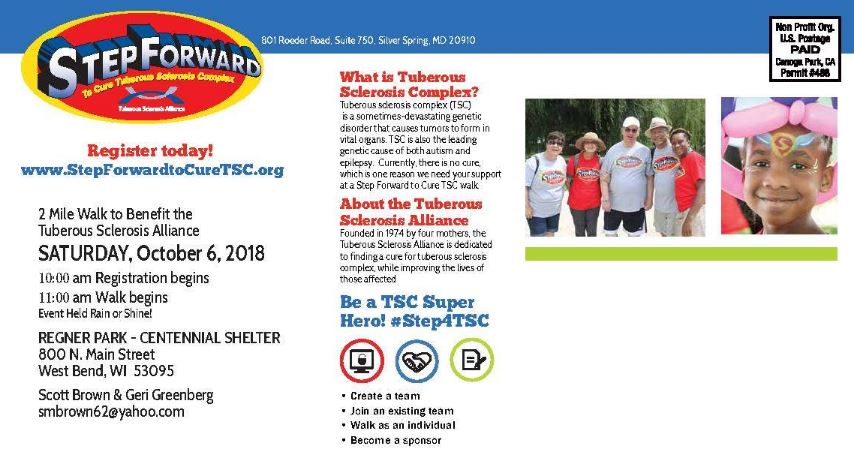 The story below was written by Erica who lives in Alaska and her son, Ace has TSC.  Ace just underwent brain surgery at Texas Children's Hospital.  This was his second surgery.  This was written pre-surgery.  He is doing well at the moment.
A day in the Life
The morning sunshine filtered through the window, warming the room and letting Ace boy play with his own shadows. Feeling brave he stepped up onto his 2 year old brother's kiddie table. Looking at his shadow on the wall he began to turn into a seizure. Setting my coffee down I rush to pick him up, the table which seemed so small a moment ago now looks like an injury waiting to happen.
His body convulses, his teeth grinding, hands and toes contorted, I hold him as he screams in terror. Listen to him whimper in pain as he comes out; lay him on the couch as his body goes completely limp. It's time for his after-seizure nap.
When Ace boy wakes up he is happy to see both his brothers near him. He makes a big happy grin and frolics around the room. Chasing his brothers, laughing as they run around with him. During this time he has multiple small head-drop seizures bringing his seizure count to 12.
It's 10 am.
A trip to the grocery store, Ace is happy and loud riding in the cart with his little brother. Suddenly he looks to the side and is silent, when his eyes refocus and I know he has come out of the seizure he smiles weakly. He spends the rest of the time at the store quiet and subdued.
Driving home, Ace vomits 5 times. All over himself, me, the van and some of the groceries. His brothers are grossed out and laughing at the same times. It's become a family joke about how often Ace throws up on mom. Ace opens his mouth in what looks like the beginning of a sweet smile but pukes again instead. We make it home and while I am vacuuming he has another big seizure. His legs thrash and kick, his little brother runs in to help, rubbing Acer's arm and telling him it's okay over and over as I hold him as tightly as I can to keep him from injuring himself. He pulls my hair and his violent thrashing means he has punched me in the chin and somewhere near my kidney. The vacuum is still running in the background. The moment he goes limp and his eyes roll back I ask his brother to turn it off. I spend a few moments monitoring his breathing and then cover him with a blanket.
His brothers play around him, each taking the time to run a hand over his face or touch his arm every few moments. I wonder if they are even aware of their gestures of comfort. When he wakes he eats dinner with us. I can see he is in pain, hear it in quiet whimpers.
He goes out to play in the evening sun on the back deck. He is moving slow, like an old man trying to keep his joints from getting too tight. He makes an effort to run with his brothers but he is exhausted.
His bedtime comes a half an hour early; he is too tired and sore to make it to 7pm. He falls asleep 2 mins after I turn off his light. Final seizure count 31. I turn the baby monitor on, volume up high so when he seizes in his sleep I can be there.
Every day, this is our life. Ace seizes while his brother has his spring concert at school, swimming lessons, soccer games and Rodeos. His seizures are so hard his nose will bleed and still he is a happy boy. He hurts every day and every day he smiles. Our family is so blessed to have him, he brings so much joy it easily cancels out the hardship.
Please join us Oct. 6 at Regner Park for the TSC event.