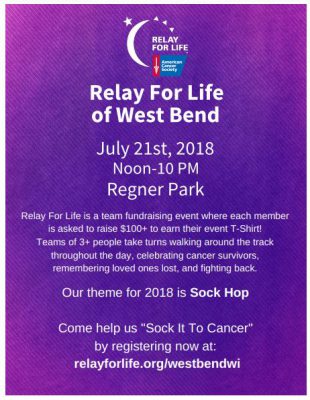 West Bend, WI – Relay for Life of West Bend will host its annual fundraiser Saturday, July 21 at Regner Park.
Over the past few years Relay for Life has struggled with fundraising and participation numbers.
By moving the event to Regner Park the organization will be able to take advantage of the park's facilities and cut back on paying for tents.
Relay For Life details:
Saturday, July 21, 2018
Regner Park  Noon- 10 PM
Relay For Life is a team fundraising event where team members take turns walking around a designated path. At West Bend's Relay, each team is asked to have a member walking the track at all times to signify that cancer never sleeps. Cancer patients don't stop because they're tired, and for one night, neither do we.
Prior to the event, fundraising can be done through your online dashboard at relayforlife.org/westbendwi after registering, or by hosting team fundraisers. Each team sets up a themed campsite at the event and continues their fundraising efforts by collecting donations for food, goods, games, and other activities that you set up at your site.
To earn Hope Club status and your event participant T-shirt, participants are asked to raise $100 or more!
Throughout the day, you'll be able to participate in many different activities including our opening ceremony, survivor lap, luminaria lap, and closing ceremony.
This year's theme is Sock Hop!
There will also be a Car Show at Regner Park from 8 a.m. to 3 p.m.
At Relay For Life events, participants celebrate people who have been touched by cancer, remember loved ones lost, and take action for lifesaving change.
Funds raised help the American Cancer Society attack cancer in dozens of ways, each of them critical to achieving a world without cancer – from developing breakthrough therapies to building supportive communities, from providing empowering resources to deploying activists to raise awareness.
REGISTER NOW AT: relayforlife.org/westbendwi
Relay for Life is also moving to just one day, rather than two and this year's event is Saturday, July 22 from 12 p.m. – 10 p.m.