Richfield Historical Society preps for Antique Appraisal and Chili Lunch event on Feb. 19 By Diane Pedersen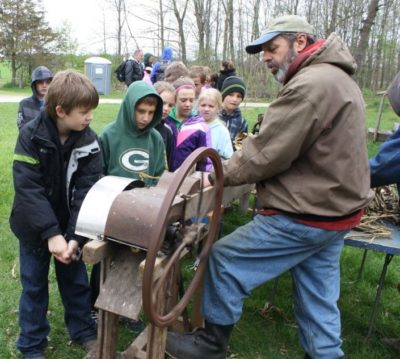 Feb. 17, 2017 – Richfield, WI –  The Richfield Town (now Village) Board had a bold vision in 1998 when it purchased the property on which the 150-year-old Messer/Mayer Mill is located. Even though the Mill is owned by the Village, it is the public-private partnership with the Richfield Historical Society (RHS) that has been instrumental in making the Richfield Historical Park what it is today.
The Messer/Mayer Mill is the centerpiece of the Park. Thanks to thousands and thousands of volunteer hours and more than $1.5 million raised, the Mill has started to come back to life. RHS has completed restoration of three of the mill foundation walls. But they're not finished yet! The society plans to complete restoration of the final wall in the summer of 2017. The goal is: "Let's Get the Mill Grinding"
RHS members say they are fortunate to have the Messer/Mayer Mill with all of its original E.P. Allis (forerunner of Allis Chalmers) equipment intact. To have original equipment is rather unusual. When a mill closed for business in the past, the owner would usually sell off the equipment and all that remained was the empty shell of a building. This is not the case with the Messer/Mayer Mill. Once the Mill foundation is totally restored, the equipment inside the Mill will be refurbished by volunteers.
Fundraisers help RHS accomplish its projects. In addition to generous donations RHS has various fundraisers that help finance their restoration work.
The first event of 2017 will be the Antique Appraisal and Chili Lunch on Feb. 19 from 10 a.m. – 3 p.m. at the Richfield Fire Hall 2008 Highway 175, Richfield.
In addition to appraisals at $5 per item, you can purchase chili with fixin's, cornbread, chili dogs and hotdogs and pie. Some antiques will be available for sale.
Visit richfieldhistoricalsociety.org for more news about the society and RHS activities at the park.