Richfield Volunteer Fire Chief John Schmitz to retire December 31 | By Paul Chavez
December 27, 2019 – Richfield, WI – The Richfield Volunteer Fire Company wishes a fond farewell to Chief John Schmitz as he retires from active duty on December 31, 2019. Chief Schmitz has chosen to take a position of President at a civilian corporation.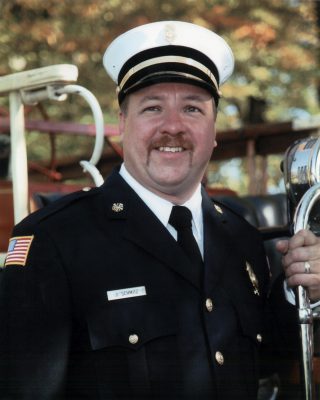 Chief Schmitz began his fire service as an Explorer Scout with the Menomonee Falls Fire Department in 1979. He became a volunteer firefighter in 1981 and entered EMT school in 1982. After eight years in service to Menomonee Falls, family and life intervened and Chief Schmitz left the fire service.
In 1996, he moved his family to Richfield and began 23 years of service with the Richfield Volunteer Fire Company. Schmitz's wife wanted him to become an EMT in '96, but classes were already full for that semester, so he started his recertification with Firefighter I, before taking his EMT basic classes the following year. After moving to Richfield, he rediscovered deep ties to the community.
For example, his grandmother's old farmstead was within walking distance of his new home. He knew he had several cousins in town, but now was closer to them and could grow those familial relationships.
Schmitz advanced through the ranks of the Richfield Fire Company, holding offices and ranks in succession of Firefighter, EMT Basic, Lieutenant, Captain, Deputy Chief, Director at Large on the Board of Directors, Board President and most recently Chief.
In addition, Schmitz is rated as Firefighter I, Firefighter II, Rapid Intervention Team, Fire Instructor, Motor Pump Operator, Fire Officer, EMT, EMT-A, and EMT-Intermediate.
Chief Schmitz shares this advice for anyone looking to join the fire service. "Get involved with your local fire department," he said. "Find a department willing to help and stick to it. Many departments are willing to assist with turnout gear and tuition reimbursement in exchange for a period of service."
Chief Schmitz recalls some fond memories during his service, including serving on the building committee for our new Station 2 (which opened in March, 2017 on Hubertus Road), founding the Advanced Life Support (Paramedic) program for our community (we now have six ALS members and two more attending school).
Schmitz is especially fond of Richfield Days, the appreciation banquets, and many years of fun and camaraderie with the RVFC and Richfield.
Chief Schmitz said he began his firefighter service because "it ran in his blood." His father, grandfather, brother and three nephews have all been in fire service. With more than 20 years of service, Schmitz has applied to the RVFD board to continue as an Honorary Member.
The Richfield Volunteer Fire Company looks forward to seeing Chief Schmitz at its monthly business meetings.
We wish him the best of luck in his new endeavors.