November 25, 2020 – Washington Co., WI – A 19-year-old Milwaukee man remains in custody at the Washington County Jail on Wednesday morning, November 25, 2020, after being arrested Tuesday for strong-armed robbery.
This arrest was related to an incident that occurred Monday at Cabela's in the Village of Richfield.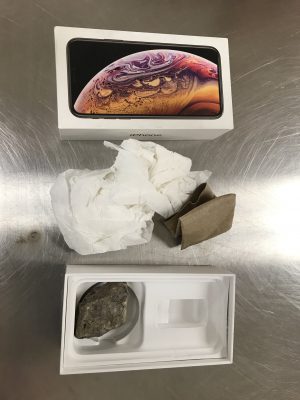 A City of West Bend man had made arrangements to sell a cellular phone over the Internet. Upon arrival, the suspect instructed the victim to go around to the passenger door of his car and deal with his passenger. The passenger then forcibly grabbed the phone and the suspects took off at a high rate of speed.
The investigation by Washington County Sheriff's authorities quickly revealed the identity of the suspect driver. The following day the victim's brother made contact with the suspect and arranged to purchase a cell phone at a Village of Jackson restaurant.
Washington County undercover deputies took over communications with the suspect and arranged a meet.
Surveillance and scene security were established in the area. At around 1 p.m. on Tuesday, the suspect arrived at the restaurant and met with undercover deputies in the parking lot. The suspect was safely taken into custody without further incident.
The suspect told investigators that he sells empty cell phone boxes to victims which he has wrapped back up in an attempt to make them look like new phones. He would place objects inside the box to make them feel real.
The cell phone that was forcibly stolen in the robbery was recovered at a City of Milwaukee Pawn Shop by investigators. The phone box the suspect intended to sell to undercover authorities contained rocks and anti-heartburn medication.
Washington County Sheriff Martin Schulteis urges people to be cautious when arranging financial transactions with strangers.
"This is all too commonplace in our communities and there are small steps people can take to better ensure their safety. These transactions should be arranged to take place in public places such as law enforcement agency parking lots and people should not go alone. Be cautious if a deal seems too good to be true as it most likely is."
Following these steps can help us reduce victimization within our community. Schulteis went on to say, "prevention is key, however, when people are victimized in our community the Washington County Sheriff's Office will deploy all necessary resources to help bring justice to them as demonstrated here. I am appreciative of the team effort including the assistance of the victim and his brother which allowed for an expeditious arrest."
This case remains under investigation and the identity of the second suspect remains unknown at this time.