Washington Co., WI – Kellie Boone, Executive Director of Washington County Fair Park & Conference Center, announced the Thursday, July 27, 2023, headliner for the Washington County Fair will be Rodney Atkins with special guest Mark Wills.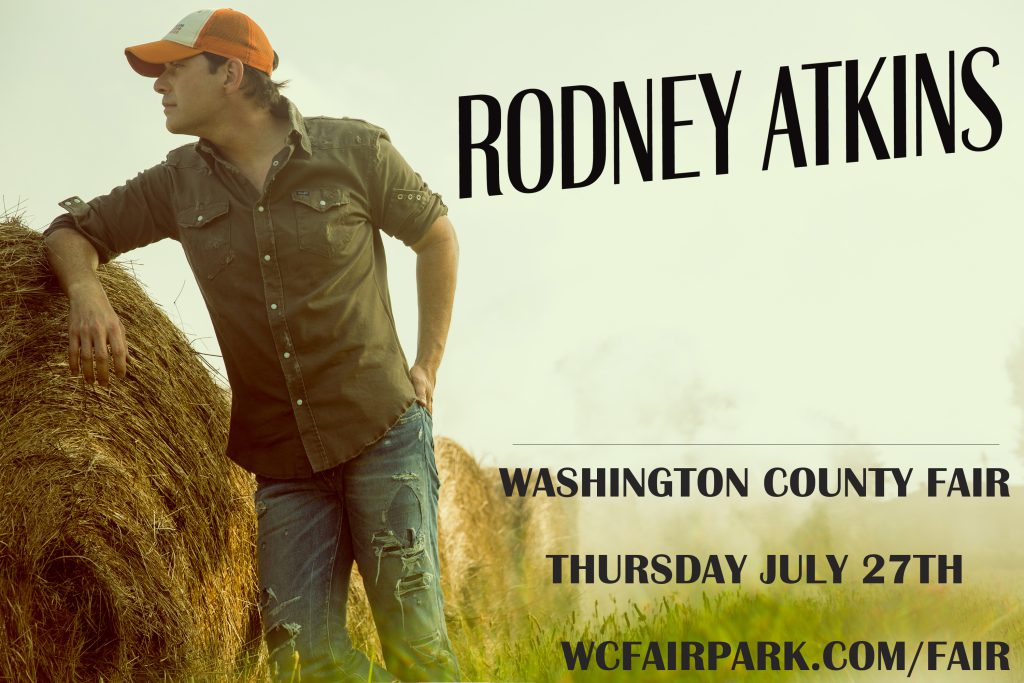 "We are excited to have Rodney Atkins coming back to the 165th annual Washington County Fair," said Boone.
Click HERE to SUBSCRIBE to FREE local news at
With eight Top 5 singles, six No. 1s, and 1 billion career on-demand streams under his belt, Atkins is one of Country music's most prominent artists. Continuing to be recognized as a powerful voice on Country radio, his Platinum-selling No. 1 "Watching You" earned the
songwriter a BMI "Million-Air" award and the top spot on Country Aircheck's top-played songs of the decade list.
Atkins was the second most-played male artist of the decade overall. He has also sold over 14 million units and earned 12 career Gold, Platinum and Multi-Platinum RIAA certifications to date.
With Caught Up in the Country, one of country music's biggest stars is starting his next chapter… "Some of these songs were like carving a statue," said Rodney Atkins. "You put a whole lot of stuff on there and then keep chipping away, so you only have left what you need—you figure out what's just noise, what's taking away, how do you make the lyrics really be heard. Sometimes you have to go way out there so you can come back."
Atkins' fifth studio album, Caught Up in the Country, reveals an artist who is confident enough to know that making your best music can require patience and experimentation.
While his storied career has reached such heights as being named the Top New Male Vocalist at the 2006 ACM awards and seeing his single "Watching You" become the Number One Song of the Decade according to Country Aircheck, it's been more than seven
years since Take a Back Road, his last record of new material.
But Atkins knew this time, he wanted to bring his songs further than he had ever gone before.
"I needed to try things, not limit myself to just sing the notes and get out of the way," he said. "I wanted to really tell a story in the shape and the melody of these songs—there's more diversity on this record than I've ever had before. And to really take time to figure out the nuances because ultimately, it's a whole bunch of nuances that add up to make something special."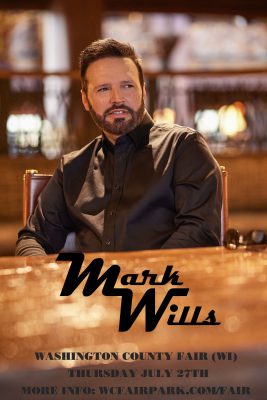 Special Guest Mark Wills is a Grand Ole Opry Member with 19 Billboard-charting Singles. He has released 7 studio albums: 2 Gold and 1 Platinum Certified and is a 2x Nominee and 1x ACM Winner as well as a 2x CMA Nominee.
He has 8 Top 10 Hits including: Wish You Were Here – 19 Somethin – Jacob's Ladder – Places I've Never Been – I Do (Cherish You) – Don't Laugh at Me – She's in Love and Back at One.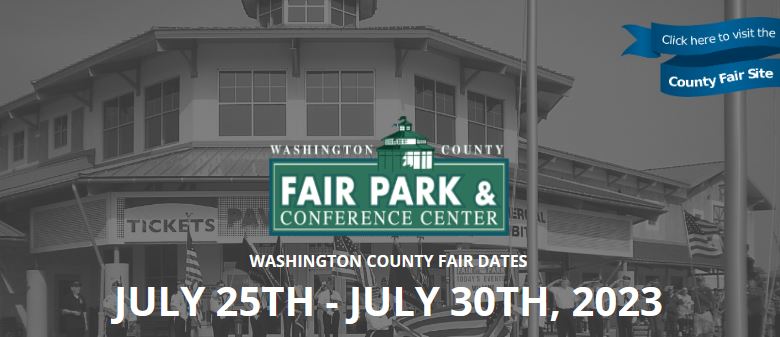 The 165th annual Washington County Fair kicks off on Tuesday, July 25 and runs through Sunday, July 30.
Click HERE to read about Saturday, July 29 headliner Brothers Osborne
Reserved Seating tickets will go on sale for AIS Members on Monday, March 20 at 9 a.m. and to the public on Monday, March 27 at 9 a.m. General Admission to the Fair includes Lawn Seating at no additional cost.
Click HERE for more information on becoming an AIS member
Reserved Seating includes a separate bar, bathrooms and General Admission to the Fair.
Ticket prices range from $40-$45.
Want to Have Access to Pre-Sale Tickets?  Join AIS! The Washington County Agricultural & Industrial Society (AIS) is a non-profit member organization that oversees the daily operations of Fair Park. Included in all memberships is first-hand knowledge and pre-sale opportunities to events at Fair Park and the Washington County Fair.
Click HERE for more information.