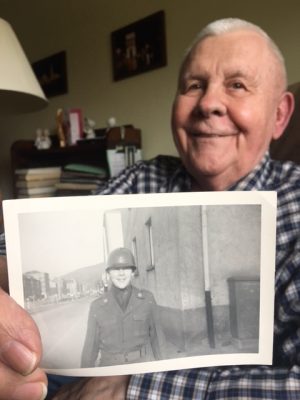 May 21, 2017 – West Bend, WI – It was an early rise and shine for Ron Zarling of West Bend today as he raced down to Milwaukee Mitchell International Airport to take off for Washington D.C. on the 39th mission of the Stars & Stripes Honor Flight.
Zarling was 19 years old when he was drafted. Living in Milwaukee and a 1952 graduate of West Division High School, Zarling was working at a typewriter shop when he got his marching orders from Uncle Sam.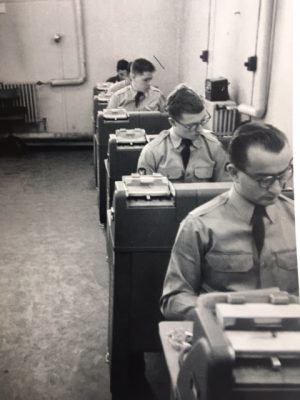 "The typewriter shop was on 30th and Vliet Street and the business was called Rudolphs," he said. "A father and son ran the shop and I was a delivery person and I also checked out typewriters."
Underwood, Royal and Remington were all in a days work for Zarling.
Once he entered service his first stop was Fort Leonard Wood for basic training.
It was April 1954 and it was 8 weeks of basic in the armored division of the U.S. Army and after that Zarling went into clerk/typist school.
"After basic I got my orders and it said I was going to Germany," he said. "We took a troop ship and it was a slow freight and it took us three weeks to get to Germany."
Zarling said the only good thing about the trip was getting a pass and stopping for a day in England.
Onto Heidelberg, Germany and Zarling was stationed at European Headquarters Command where he worked in the Machine Records Unit. "I had no idea what I would be doing and the next day they turned me into a keypunch operator and that was my career in the service," Zarling said.
"We'd enter data onto the cards and after it went through the machine it would go up into the hopper. This was the first infrastructure of data processing."
Logging morning reports, equipment inventory and personnel assignments would all cross Zarlin's desk during a regular 8-hour day, 5 days a week.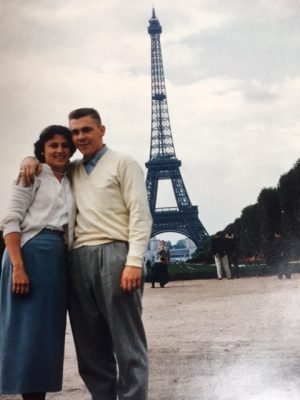 Zarling's wife came over to Germany during his service. "Our first apartment was just one room in a building that used to be barracks for the Germans," he said.
Stationed for two years Zarling said there was no conflict during his service.
He was discharged in 1956.
Zarling has been to D.C. before. He said he is going to try to find his second cousin's name on the WWII Memorial.
Zarling's guardian on the Honor Flight will be his oldest daughter Judy Ish.