July 27, 2021 – West Bend, WI – Some familiar faces in the crowd from 34 years ago when President Ronald Reagan visited West Bend on July 27, 1987.  Reagan spoke at the Washington House, 228 N. Sixth Avenue.
Ed Geidel chimed in with this recollection.
In reference to President Reagan visit, the West Bend Fire Department played a roll in his visit as well. The Fire Department supplied a staffed Ambulance (known then as Rescue Squad) in the motorcade. Staffing the Rescue Squad was Lt. Jerry Wolf, MPO Mike Theisen and FF Ed Geidel. We met in Germantown that morning. Due to the weather, it was unknown if the President was to be driven up to Hartford from Milwaukee airport or was going to be taken via Helicopter. It turned out the weather was clear enough so the President was taken to Hartford via helicopter.
The West Bend Fire Department Rescue Squad was assigned a place in the motorcade and was responsible if something happened medically to the President, we were to transport to the nearest hospital and provide immediate medical attention to the President.
After the President's speech in Hartford, we followed along with the motorcade to West Bend where the President had lunch with the members of the Rotary Club. Along with us was a Secret Service Agent who had communications with other Secret service Agents. When lunch was done, the motorcade proceeded to Port Washington where the President gave a speech there. He then left via helicopter to Milwaukee to head back to Washington.
The Fire Department also placed an engine and other firefighters strategically along Main Street where the motorcade traveled.
A former West Bend Police officer who left to become a Secret Service agent and then an ATF agent requested the services of the West Bend Fire Department Fire Chief Brian Mayer to supply the Rescue Squad for the motorcade.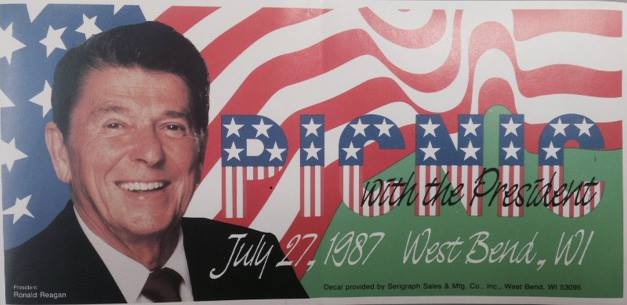 Naomi Hanson Schueller
I lived at the Washington House then. Had security and dogs come through our apartment and we couldn't leave or open our blinds. Somehow we got a picture out the front window.
Lisa Achterberg-Schroeder
I remember that time quite clearly myself. At that time I worked at Husar's. I remember being the one who engraved Reagan's key to the city. I will remember it always.
Aaron Laatsch
I was 13 at the time….we stood downtown near the theatre….from what I remember all we caught was a glimpse of his silhouette as his motorcade passed through. I do remember a Reagan visit t-shirt we bought somewhere to mark the occasion.
Full Title: Trip to Wisconsin. President Reagan's Remarks at The Rotary Club Luncheon at Old Washington House Restaurant in West Bend, Cuts of President Reagan's Speech at Lower Lake Park in Port Washington on July 27, 1987 Creator(s): President (1981-1989 : Reagan).
Click HERE to watch President Reagan's address in Hartford
White House Television Office. 1/20/1981-1/20/1989 (Most Recent) Series: Video Recordings, 1/20/1981 – 1/20/1989 Collection: Records of the White House Television Office (WHTV) (Reagan Administration), 1/20/1981 – 1/20/1989 Transcript: https://www.reaganlibrary.gov/researc… Production Date: 7/24/1987 Access Restriction(s):Unrestricted Use Restriction(s):Unrestricted Contact(s): Ronald Reagan Library (LP-RR), 40 Presidential Drive, Simi Valley, CA 93065-0600 Phone: 800-410-8354, Fax: 805-577-4074, Email: [email protected] National Archives Identifier:137880398 https://catalog.archives.gov/id/13788…