Rotarians Work to Make West Bend Great | By William James R. Schroeder Sr.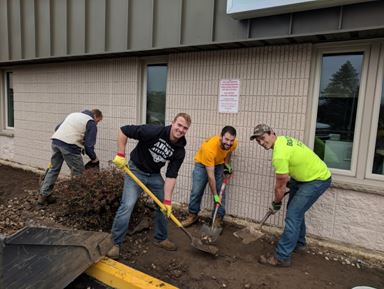 Nov. 2, 2017 – West Bend, WI – West Bend Noon Rotarians, friends, and volunteers braved the cold weather over the weekend to improve the community of West Bend.
Volunteers removed over 6,000 pounds of stone, ground out an old tree stump, mulched and planted bushes, roses, and a new tree at the Albrecht Free Clinic, 908 W Washington Street.
Earlier this year, West Bend's Noon Rotary Club received a grant from Rotary District 6270 to help landscape and beautify the area around Albrecht Free Clinic. The purpose of the project was to create an outside area for patients, volunteers, and staff to enjoy.
Future plans include installing a bench, "smoke free" area signs, a picnic table, and a bike rack in partnership with Bike Friendly West Bend.
At the end of October, Bike Friendly West Bend unveiled a student-created bike rack that was installed in front of Jeff's Spirits on Main.
Noon Rotarians at the job site were Amanda Follett, Steve Binkley, Lisa Sanborn and Pat Strachota. They were joined by Jon Sacks of Sunrise Rotary and Ruth Henkle, Executive Director of Albrecht Free Clinic and Rotarian from Port Washington/Saukville.
Also pitching in was Amanda Follett's family, John, Sarah, Eric, and Lucian.
"We would like to say a special thank you to Leif Christenson, Owner and Operator of Christenson Landscape Contracting, LLC, who provided equipment and expertise," said Follett. "Without (them) this wouldn't have been possible."
Follett added, "Seriously, there were a lot of stones!"
The Albrecht Free Clinic provides medical and dental care to uninsured and under-insured individuals in the West Bend community.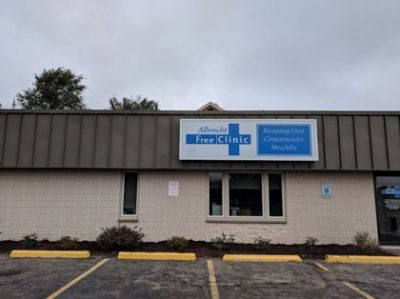 William James R. Schroeder Sr. is a lifelong resident of West Bend and has served the Noon Rotary Club of West Bend as Secretary for the past four years.
Photos courtesy Amanda Follett.