Oct. 23, 2017 – West Bend, WI – A collaborative educational effort between local businesses, Bike Friendly West Bend and students at Moraine Park Technical College came to fruition today with the installation of the first student-created bicycle rack in West Bend.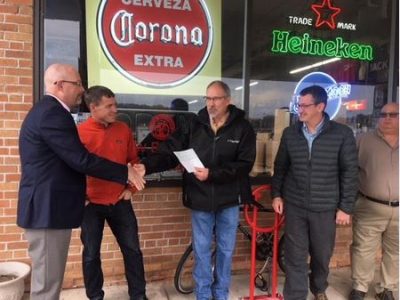 "The idea was to have technical college students gather requirements, design some custom racks and then fabricate the racks," said Jeff Puetz from Bike Friendly West Bend. "The skill set MPTC to their students is very marketable in the current economy."
Jeff Szukalski from Jeff's Spirits on Main hosted a check donation and unveiling Monday morning in front of his store, 821 S. Main Street.
"This means I can ride my bike to Jeff's and I don't have to lock it to the mailbox," said Andrew Schumacher from Bike Friendly West Bend.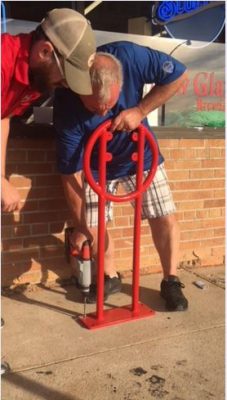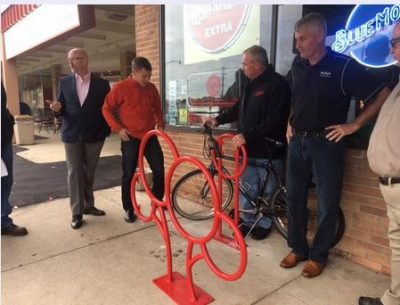 Moraine Park Technical College received donated materials from Willard Tool and Mercury Marine. "Gene Wendorff from Hartford Finishing Inc. donated the powder coating and now every bike rack will be sold for $200 – $250 and all that money will go to a scholarship foundation for MPTC," said Szukalski.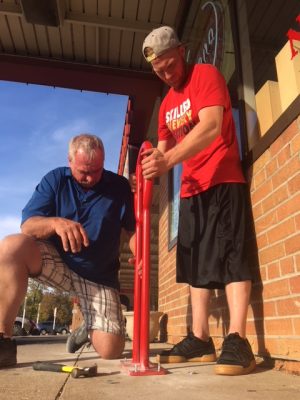 There are three different bicycle rack designs including a tree, a bicycle and a simple round frame with legs.