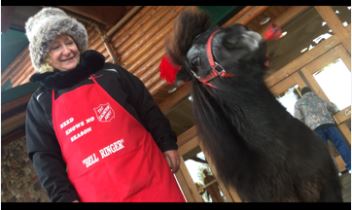 Dec. 23, 2017 – Washington Co., WI – The Salvation Army Red Kettle Campaign will be at Pick n' Save South in West Bend today and celebrity bell ringer Tinker will be on hand from 12 p.m. – 2 p.m.
The miniature horse is one of the more popular attractions for the Salvation Army.   Donations will be collected through Christmas Eve.  The goal this year is $3.8 million and all money raised stays local.
Tinkers Schedule 2017  
12/23/2017          Pick N Save South, West Bend, just off of Paradise Dr, 12 p.m. – 2 p.m.