February 25, 2021 – Washington Co., WI – An update on a story originally published February 11, 2021 at WashingtonCountyInsider.com regarding the spouse of an administrator at Samaritan Campus being invited in for a Covid vaccine.
The scenario raised red flags for some in the community who wondered how the spouse managed to skip ahead of others.
The incident was investigated by Washington County and county executive Josh Schoemann provided the update below.
"This situation does not live up to the values of our county or my expectations.  After a thorough investigation, this personnel matter has been handled to my satisfaction, and in accordance with county policy.
We can confirm he received his first dose, which was the subject matter of this investigation, as acknowledged in the publicly released memorandum.  We can also confirm that he was authorized to receive the second dose via an appropriate process.
Thanks again! Josh Schoemann 
Pushed for more information, Schoemann said he could not go into detail other than to say "Mari Beth was back at work today."
February 11, 2021 – Washington Co., WI – A personnel matter is under review by Washington County Human Resources regarding a complaint tied to the administration of the COVID vaccine to a staffers spouse at the Samaritan Campus.
There was a letter on Samaritan Campus letterhead dated February 4, 2021 from Mari Beth Borek to Samaritan Staff. Borek is campus administrator and according to her LinkedIn profile she is, "Responsible for the overall operations of the Samaritan Campus."
The reason for Borek's letter is titled RE: Anonymous concern.
Washington County Executive Joshua Schoemann confirmed the letter and the concerns are legitimate.  A copy of the letter is posted below. It basically outlines how an anonymous complaint was filed indicating Borek's husband received a COVID vaccine from the Samaritan Campus and how was he able to skip others to get the vaccine.
There were several who questioned how Borek's husband could access the facility, which had been locked down to resident's families since Health Department restrictions were put in place.
County Executive Schoemann's response is below.

"Thank you for reaching out to me regarding this unfortunate matter.  I received a written complaint just this week regarding this matter.  After confirming the report, as laid out below, I have asked my staff to do the necessary investigation into the specifics of the case.  As a personnel matter, I will respect the investigatory process.

That said, I was deeply disappointed to hear this report.  If such a thing did happen, it is not acceptable and is not consistent with the county's values or my expectations.  The county will deal with this matter accordingly.

Thank you again for reaching out to me.

Josh"
Schoemann also added he believes this is a "stand alone case."
"This is under investigation from an H.R. perspective but no Mari Beth is not suspended while this is under review," he said.
When the shot was administered, according to Schoemann, will play a part in the investigation. "The timing of the shot will be a factor because of the Phase 1 and Phase 1A distribution," he said.
Schoemann said age was a factor with the order the vaccines were distributed.
Since the COVID vaccine is a 2-shot process, Schoemann did not know if one or two shots had been administered to Borek's husband.
Schoemann did confirm if there were more vaccines than people available to receive them then a list of people waiting for the vaccine would determine who was next in line for the shot.
The investigation is expected to take about a week.
The Samaritan Health Center has 131 skilled and Medicare certified nursing home beds including 119 private rooms and four specially equipped rooms for bariatric clients.
Below is a letter Borek sent to residents and families, February 4, 2021.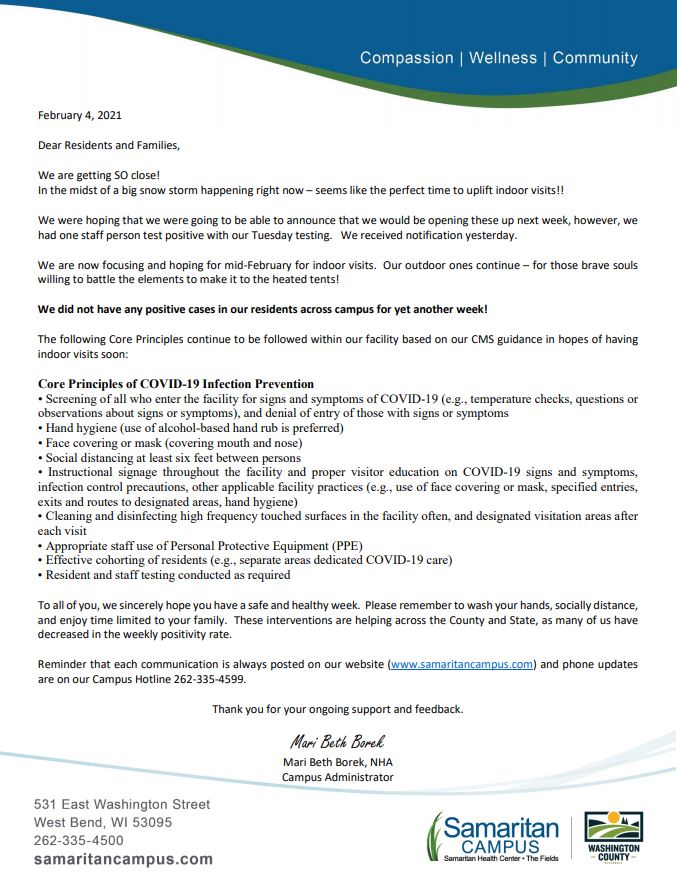 This is a working story and more information will be posted when details become available.