Schmidt Road in West Bend to be renamed in honor of John "Spike" Schmitt
Sept. 7, 2018 – Washington Co., WI – There's going to be a dedication at 4:30 p.m. today, Friday, Sept. 7 as Schmidt Road is renamed in honor of Washington County Sheriff's Deputy John "Spike" Schmitt.
At the end of the week Schmidt Road, in front of the Washington County Justice Center and Sheriff's Department, will close and become a private drive.
The closure is part of a jurisdictional transfer swap with the City of West Bend.
There is parking on Schmidt Road across from the Washington County Justice Center. The public is welcome to attend the event.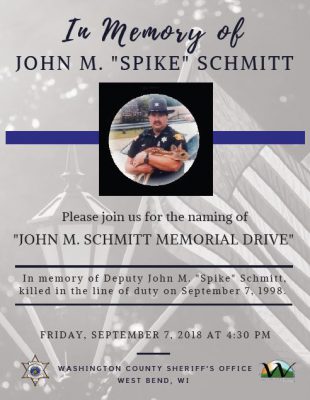 According to Jamie Ludovic with the Washington County Parks Department, the county was looking at the long term in regard to the expansion of its campus.
With the closure of Schmidt Road the new name of the private drive will be Schmitt Memorial Drive.
The naming of the road will occur on the 20th anniversary of the death of Washington County Sheriff's Deputy John "Spike" Schmitt who was killed in the line of duty Sept. 7, 1998.
Rolfs Avenue Extension Project Completion
Sept. 5, 2018
Recent rains have delayed the final tasks associated with the construction of Rolfs Avenue extension.
The opening of Rolfs Avenue to vehicular traffic between Lang Street and Creek Road is therefore being delayed and is now anticipated to happen mid to late morning on Friday, September 14, 2018, weather permitting.
This new road extension will provide a connection from Creek Road to Washington Street to replace the section of Schmidt Road that served this function in the past. Said segment of Schmidt Road is being vacated to revert back to Washington County ownership, and will no longer connect to Washington Street.
Access to the Sheriff Department can be achieved through the driveway provided along Rolfs Avenue.
Until September 14, 2018, motorists, pedestrians, and bicyclists are reminded to abide by all traffic control signs and devices as well as be aware of ongoing construction activities. Alternate routes should be planned to avoid construction whenever possible.
If you have any questions about this news release, please contact Mitch Leisses, Kunkel Engineering Group at 920-210-6330.