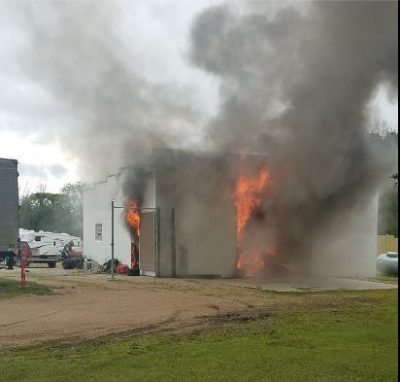 July 20, 2018 – Slinger, WI – UPDATE – A concrete block building was destroyed in a Friday morning fire at 3855 Sherman Road in Slinger.
According to the Washington County Sheriff the call came in at 10:05 a.m. There was a report of heavy smoke coming the area of Sherman Road and I41 in the Town of Polk.
The first arriving Deputy determined it was coming from a fully engulfed garage type building at 3855 Sherman Road (E&H Outdoor Storage).
The Slinger Fire Department was paged and the call was upgraded to a MABAS call. Fire Departments from Allenton, St. Lawrence, Jackson, Hartford, Richfield and Germantown responded to assist.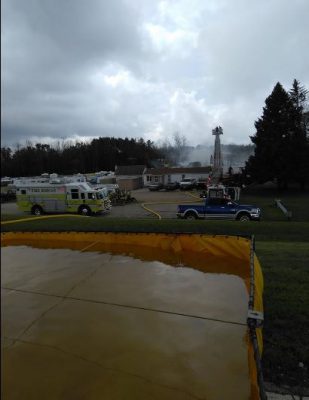 Initial information is that there was a gas tank being removed from a vehicle inside the building by two employees of the business. The gas tank dropped quickly and a spark from something ignited gasoline that was spilling from the tank. The fire was extinguished by approximately 11:55 a.m.
The building and contents are a total loss.
The right lane of I41 had to be shut down at 10:28 a.m. while the fire was being extinguished due to the presence of a propane tank on the south side of the building.
The right lane was opened up at 10:51 a.m. One of the employees suffered minor injuries associated with the fire when he returned inside the building to retrieve an item. There is no damage estimate available. The Sheriff's Office has a Fire Investigator responding to the scene so there is no further information to report at this time.