Signs up for new Shopko Optical in West Bend
June 17, 2019 – West Bend, WI – It was January 2019 when neighbors in West Bend learned about the fate of Shopko. The retail chain filed bankruptcy, however Shopko noted "All Optical locations below will remain open to serve you during store closing. Your Optical center will be relocated very soon to a new location with the same patient care you have come to expect from your Shopko Optical center."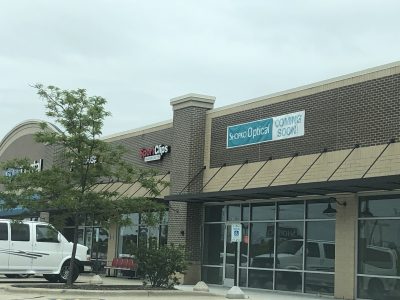 A freestanding Shopko Optical will open soon in the strip center to the south of Pick 'n Save, just to the south of SportClips in the 1700 block of S. Main Street.
The store clerk said the move across the street will occur at the end of June 2019; the exact date has not yet been determined.
More details were posted in a press release from Shopko.
In order to position the Company for future success, Shopko has announced that it will be closing an additional 38 stores, relocating over 20 Optical centers to freestanding locations, and conducting an auction process for its pharmacy business. Throughout this process, all Shopko Optical centers and pharmacies remain open and continue to deliver the high-quality products and services to which its customers are accustomed. All other stores remain open as the Company continues to optimize its store footprint. Parties interested in receiving additional information about the Company's pharmacy auction process should send inquiries to [email protected]

Additionally, encouraged by the performance of the four freestanding Optical centers that were opened in 2018, Shopko plans to continue to grow its optical business by opening additional freestanding Optical locations during 2019.