February 28, 2021 – Washington Co., WI – The Kettle Moraine Ice Center and the Ice Lynx girls hockey team played host to Olympic gold and silver medal winner Brianna Decker on Thursday night. The evening was designed to inspire girls to try hockey and the success was impressive.
"It's great to see young girls get involved with the game," said Decker.
Jenny Thill from the Washington County Youth Hockey Association organized the event.
By the 5:30 p.m. start time, Thill had more than 50 young skaters on the ice and they were nearly out of equipment.
The Ice Lynx regularly host "Skate Like a Girl" events. Part of the promotion is to offer skates, hockey sticks, gloves and pads as a courtesy so parents don't have to make a huge investment as their kids try their hand at the sport.
"When I was younger I skated with boys, I had three brothers and all I knew was boys hockey," Decker said. "I played girls hockey a little bit and there was a girls team in high school but I'm glad to be able to pave the way for some of these young girls now. Hopefully they can see me and have a desire to be like me when they get older."
Decker, 29, is a member of the Calgary section of the Professional Women's Hockey Players Association, she played for the Wisconsin Badger's womens hockey team, and was a gold and silver medal winner representing the United States at the Olympics in 2014 and 2018.
Most of the kids in attendance ranged in age from 5 to 15. "I think they're a little aware of what I do but they really don't know my career as a whole," said Decker. "But if they know I play professional women's hockey and they want to do that someday… that's great."
Decker said women playing hockey wasn't really a thing when she was growing up, but she embraced the sport. "People really supported me," she said. "I was part a lot of great teams and I had a lot of unique experiences."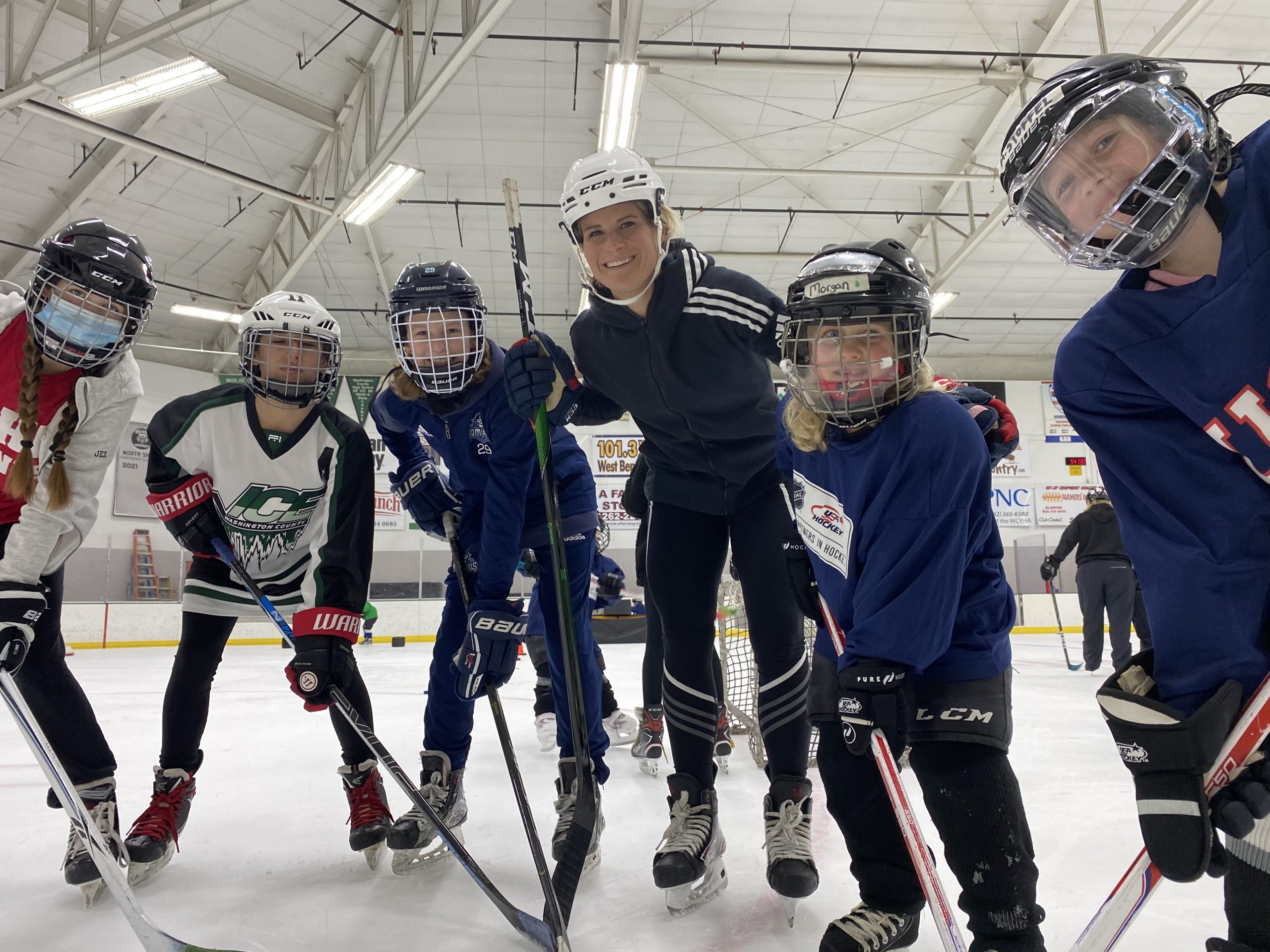 During several hours on the ice Decker worked one-on-one with young skaters. She helped show them puck control, balance, and how to have fun on the ice.
"Playing professional hockey is more demanding than people realize," said Decker. "Between training, diet, more training and travel… it's pretty intense. But it is what we love to do and why I continue."
The evening was filled with smiles, a lot of falling, getting back up and being sweaty.  And the girls loved it.
"If you have doubts about playing hockey… give it a shot," Decker said. "The hair in your face, you'll manage that. You will be stronger, fast and you'll be able to compete right alongside the guys. Just have fun with it."
Click HERE for more details on how to "Skate Like a Girl" at the Kettle Moraine Ice Center.