Slinger community recognized for supporting students injured in July accident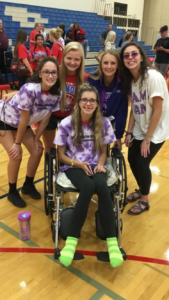 A volleyball game between West Bend West and Slinger set the stage for a very special evening as neighbors in Slinger were recognized for their compassion following an accident this summer that injured four teens.
This past July 22, Slinger Police and Fire responded to a severe accident on Highway 60 and Lovers Lane. Four teens were injured including Mallory Wiest who was transported to Froedtert Hospital by Flight for Life.
During the second set of Thursday's game the parents of Wiest, shared their gratitude for all of those who helped following the accident. Thanks was given to the first responders, the Slinger community, the school district, and lastly Mallory for being such an inspiration.
The night started with each team member presenting Wiest with a flower, as well as matching purple tie-dye t-shirts.
Wiest said, "I can not thank the volleyball team as well as the Slinger community enough for the amount of support they have given me over the last two months. It honestly has helped my recovery a ton."
Slinger senior Hailey Schmitt said, "Mallory is so strong despite the troubles she has faced. She is a true inspiration to not only the volleyball team, but everyone around her."
At the conclusion of the ceremony, Weist received a standing ovation from the crowd.
On a side note, WB West beat Slinger in a 3-0 sweep.
In the picture left to right: Kayleigh Gorman, Hailey Schmitt, Paige Semrau, Hannah Moser, and Mallory Weist in the middle.