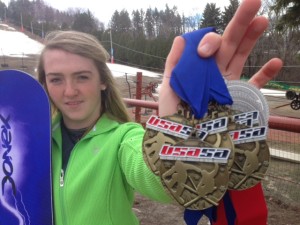 My name is Lexi Bullis and I am heading to USASA Nationals to compete in the Giant Slalom, Slalom and Boardercross events for snowboard at Copper Mountain, Colorado.
I have been skiing since I was 2 years old and snowboarding since I was 4 years old.
I started alpine ski racing with Parks ski club out of Sunburst ski area when I was in 6th grade.
I raced with the Slinger High School team my freshman year and qualified for state. Slinger High School created a snowboard race team this year, and I decided to race both.
My step-dad bought a used alpine snowboard 15 years ago and considered selling it the past few years. I, however, convinced him to keep it knowing one day I would want to try it out.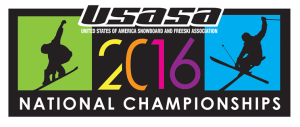 This was the perfect opportunity. The first day the hill was open, he took me out to show me how to use it because the stance on the board is very different.
I only practiced a few times on the alpine board before my first race and didn't expect it to go so well. I fell my first run of the weekend but still got a second place finish on that run because there were only two of us in that event.
I ended up going home from that weekend with three first-place finishes and one second. The season only improved from there.
I finished the season winning conference in both Giant Slalom and Boardercross. Our high school girls team also won conference for both of those events.
Now, that there is no snow, all we have to do until Nationals is wait.
I am going into Nationals with an open mind and no expectations on how it is going.
Going into this season I had no idea how it was going to go or how it was going to work. I had to translate many of the techniques I learned in ski racing to my snowboarding to be successful.
The competition out there will be tough, no doubt about that. Because of the other pressure in my life, people have told me that the more pressure I am under, the better I seem to perform.
The one down side about Nationals, though, is it falls on the first two games in my high school soccer season and two of the hardest games of the season.
Seeing that I am the varsity goalkeeper for the Slinger team, my coach isn't too thrilled and wants me back as soon as possible.
Nationals is from April 3-7 which is the week after spring break. Immediately after I race that Thursday, I am hopping on a flight from Denver to Milwaukee so I can be in school that Friday in order to be allowed to play in our soccer game vs. Germantown on Saturday.
If that flight is delayed due to weather or cancelled completely, I have no idea how that is going to work out. We will see.
 I am just excited to be get this opportunity to go far in my snowboarding career.