Washington Co. weekly updates
General Updates
Employee Town Hall Meetings –

This week was packed with seven "Town Hall Meetings" where we provided important updates to County employees regarding the status of PBB, the County's Health Insurance Fund and general Q&A.  In all about 300 employees attended the sessions and asked a variety of good questions.  

Thank you to those of you who attended. Again, your time and attention is truly appreciated, as is your service to our County!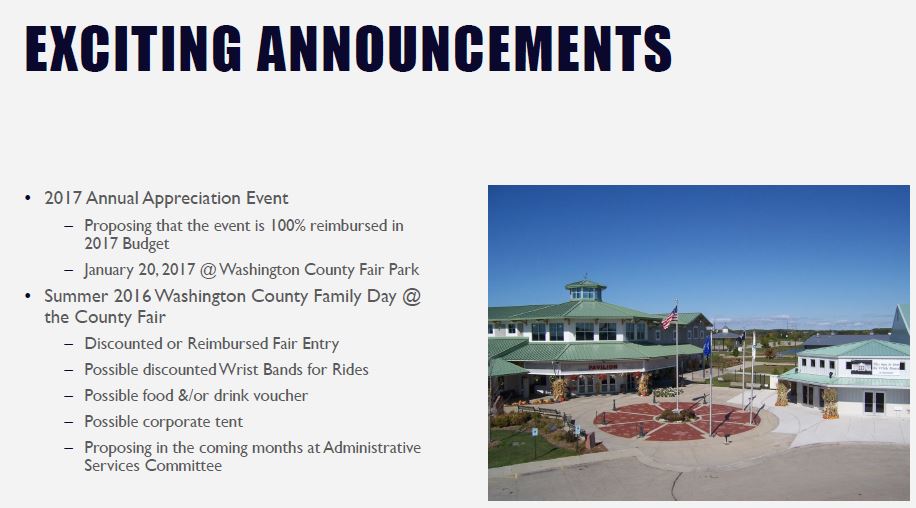 ·         IS Ad Hoc Committee – Consistent with my goal to "Reposition Information Services and establish a new accountability structure for centralized decision making throughout the County, ensuring a Well Governed and Administered County, by January 1, 2017" this committee, comprised of Supervisors Deiss, Gundrum and Kriefall met to undertake the first steps of repositioning.  During their first meeting on Tuesday the committee tackled the values of which will govern decision making going forward.  After a thorough two hour discussion the committee established the following values, in priority order: Security, Standardization and Integration, Mobility, User friendliness.  The committee will meet again on April 6 at 10 a.m.
Sunrise Rotary – On Tuesday morning I was invited to be the speaker at the West Bend Rotary Early Risers.  The speech included a brief update on the Fair Park Stage, Herb Tennies 50 Years of Service and Priority Based Budgeting.  In addition, a flurry of interesting questions were asked on subjects from Annex II/Senior Center demolition to the need for additional regionalization of services.  Thanks to the Rotary Early Risers' for the opportunity to provide the update!
Youth Government Day – On Wednesday we welcomed students from West Bend East and West, Kewaskum, Slinger and Hartford high schools when we hosted the American Legion's Youth Government Day.  We had a very nice lunch and a number of department heads had the opportunity to speak to the students about the work we do at the county.  Special thanks to Michael Riebe (who also happens to be a Bailiff) and all of the local American Legion Posts for their work to put on this nice event for our youth!
Hartford Chamber Event – On Thursday morning I attended a seminar hosted by the Hartford Chamber of Commerce and the Hartford Area Development Corporation analyzing growth strategies for manufacturers and local businesses. Although I had to leave a bit early, there was an excellent presentation done through Wisconsin Manufacturing Extension Partnership, which provided an interesting perspective on the needs of businesses in our County.  Special thanks to Scott Henke from the Hartford Chamber and Tom Hostad from HADC for putting together this educational series right here in Washington County!
Constitutional Officer of the Year – Congratulations to Sharon Martin, Register of Deeds on receiving the Wisconsin County Constitutional Officer of the Year award from the WCCO Association. Way to go Sharon!
Personnel
Welcome!!
Hillaree Fisher – Sheriff's Department
Alex Gantner – Sheriff's Department
Kayla Halderman – Samaritan Health Center
Active Recruitments
Activity Aide, CNA,  Dietary Aide,  Director of Nursing, LPN, Registered Nurse, RN Relief Supervisor – Samaritan
Mental Health Specialist/Crisis Intervention, Senior Social Worker – Human Services Department
Communicable Disease/Immunization Public Health Nurse – Health Department
Project Manager/Deputy Surveyor, Summer Employment – Highway Department
Administrative Intern – Administration Department
Summer Employment – Facilities
Summer Employment – Planning and Parks/ Golf
Corrections Officer – Sheriff's Department
CONGRATULATIONS to the following employees for their years of service at the County!!
20 YEARS
Carol Hogan – Human Services Department