May 27, 2022 – Slinger, WI – Parents flocked to Slinger Middle School to pick up their children Friday afternoon, May 27, 2022 following a tense situation regarding reports of a student with a gun.
A lockdown of the school followed along with immediate response from area law enforcement. By 3 p.m. parents were reunited with their children.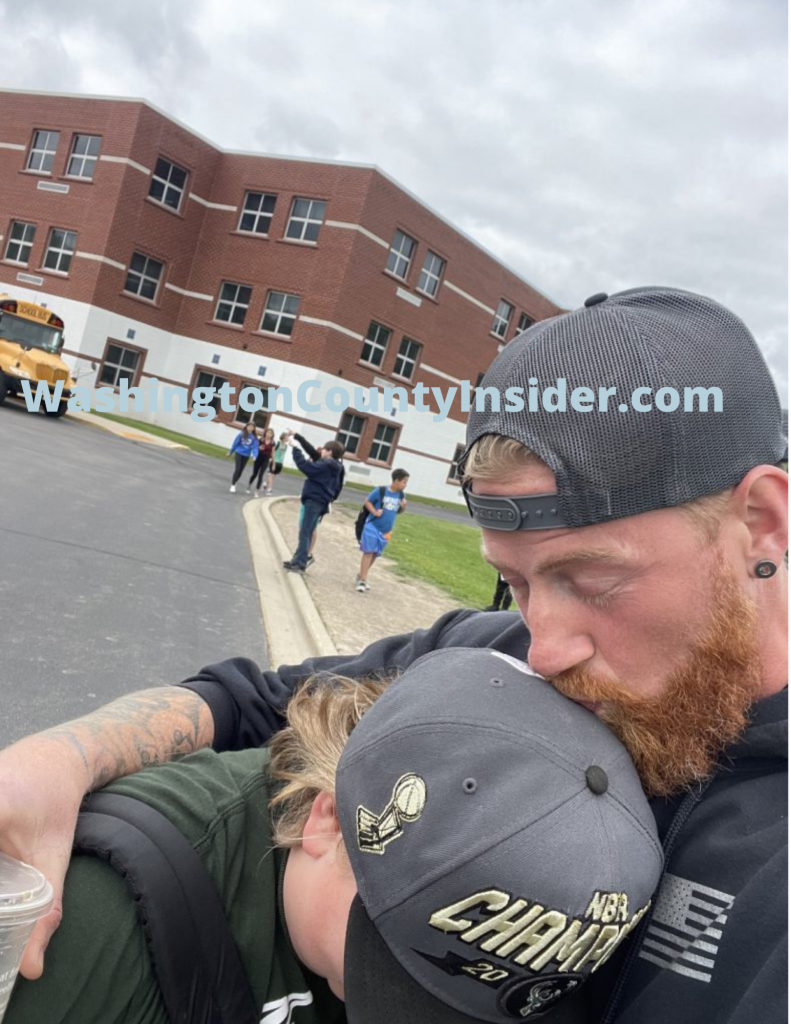 "I don't even know what to feel," said Owen Masters hugging his 13-year-old son. "My anxiety is through the roof. I feel good that I have him now… but this has just been a nightmare.
"I've had every family member calling me crying, I was crying and it was difficult not knowing and just the hearsay made it so much worse."
Masters's son confirmed the entire class had to hide under the teacher's desk or in a closet. They were given golf balls to throw, and students said they were "all just trying to calm each other down."
Click HERE to SUBSCRIBE to FREE local news at
"My son heard the same thing… about an active shooter inside the school.  He's pretty calm but this is just insane," said Masters.
Masters' said his son talks about monthly lockdown drills and noted they did "prepare for something like this."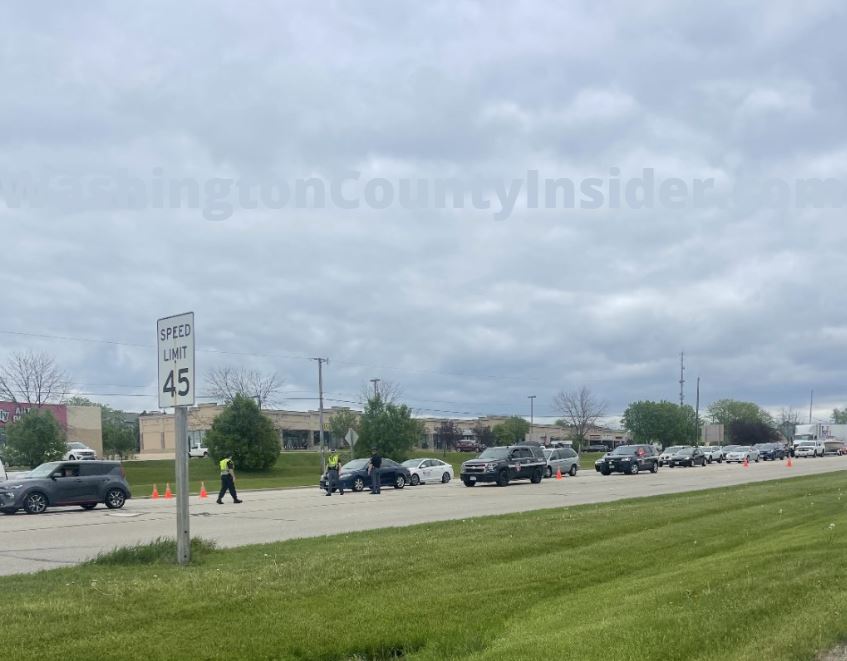 Parents wait in line on Highway 60 at Lou's Way as police monitor traffic. Authorities shut down Hwy 60 for a short time Friday afternoon as parents made their way from a staging center at Kettle Moraine Bowl and then traveled to Slinger Middle School to pick up their children.
Students told their parents a classmate from seventh grade was escorted from the school in handcuffs.
A note from the Slinger School District was sent to parents in the Slinger School District.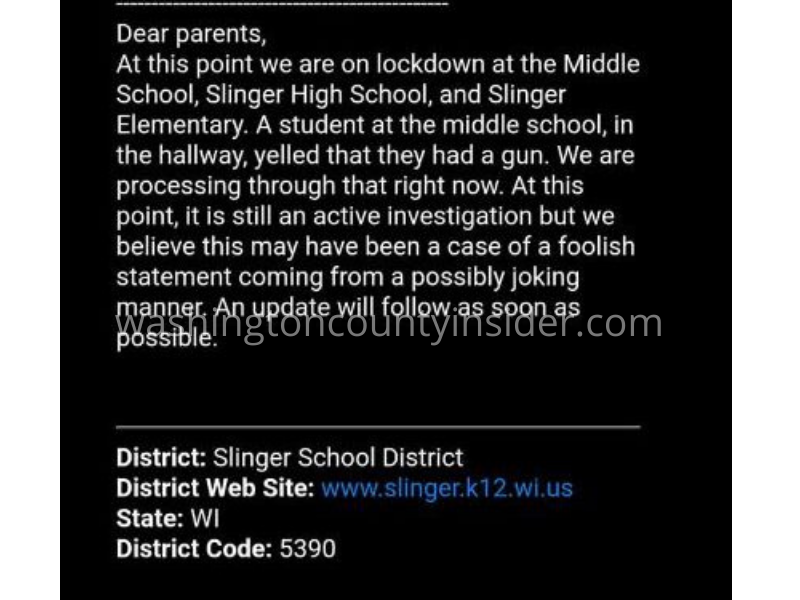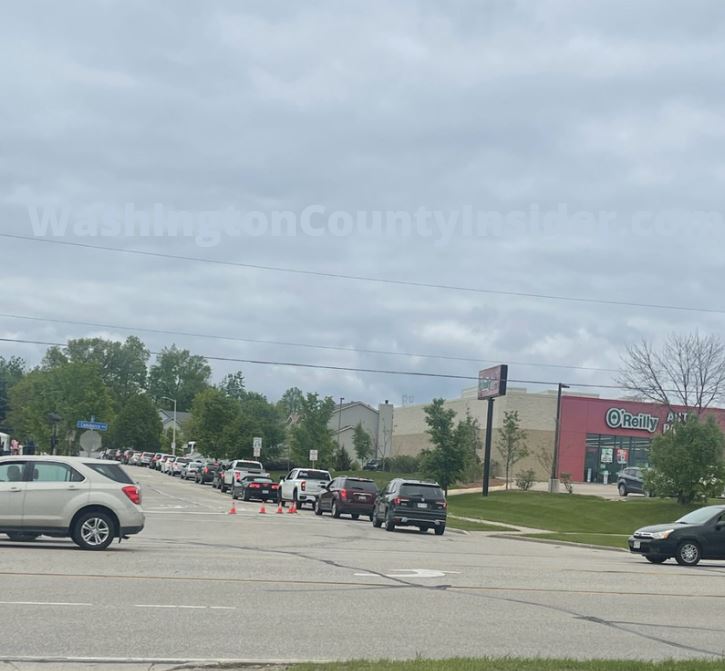 Richfield Fire Tony Burghardt announced Slinger Middle School has been cleared and there are no injuries at this time following a tense situation after there were unconfirmed reports of a student with a gun.
Slinger School Board president Ken Strupp, speaking one-on-one with WashingtonCountyInsider.com, said he spoke with police on scene just before 1 p.m. and they indicated "the situation was under control."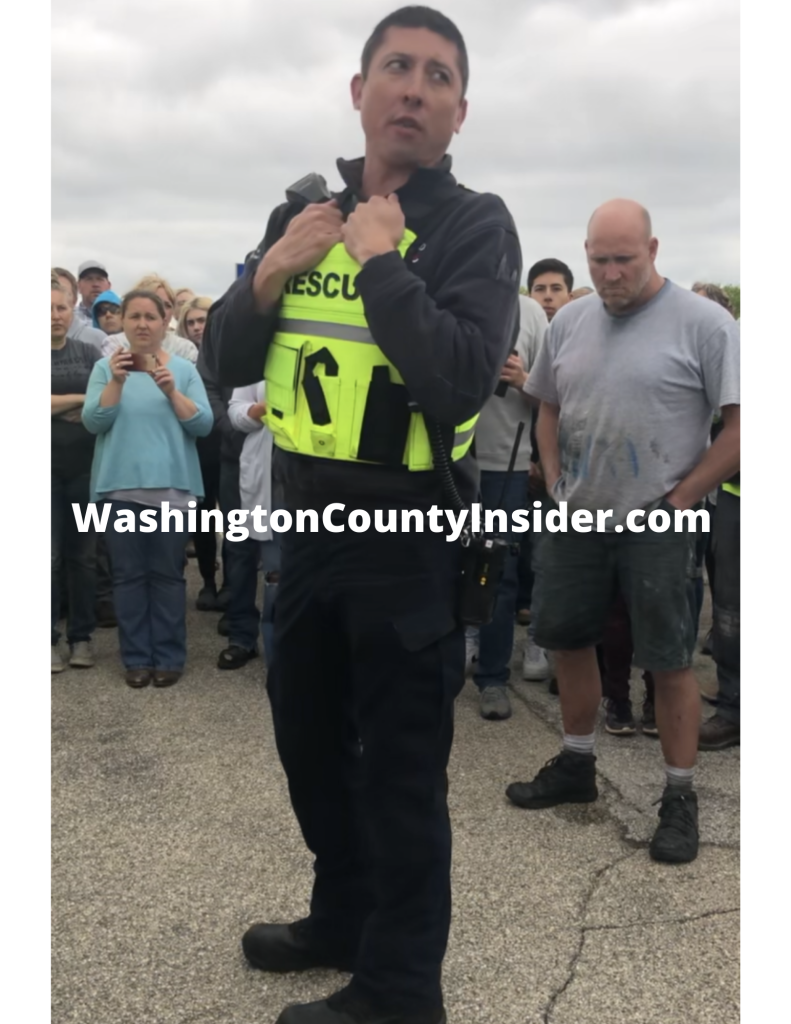 An email from the Slinger School District has been sent to parents regarding a tactical situation that began at Slinger Middle School around just after noon on Friday, May 27, 2022.
Below is correspondence from the School District as of 12:50 p.m.
UPDATE FROM
WASHINGTON COUNTY SHERIFF
: Law Enforcement Officers responded to Slinger Middle School to a report of a student with a gun. A suspect has been taken into custoday. There are no injuries. No gun has been located but the school remains on lockdown while a search of the school is conducted. Parents should meet at the staging area at Kettle Moraine Bowl. There is nothing further at this time.
URGENT REQUEST: Slinger Middle School is currently on lockdown. PLEASE AVOID THE AREA. Updates will be posted as they become available. We have no further informaiton at this time.
Washington County, WI, Sheriff scanner call: