December 5, 2021

– Slinger, WI –

One word describes Slinger senior wrestler Noah Tonsor: humble. As he prepares to sign a commitment to West Point Academy aka the University of the Army, Tonsor's mother Shannon made clear her son is very humble in face of his achievements.
"He doesn't feel he has done anything extraordinary," she said of her son's acceptance to West Point.
Noah himself noted the significance behind choosing West Point did not have as much to do with military tradition in his family, rather it was the connections he fostered with the wrestling program, especially head coach Kevin Ward.
"He (coach Ward) invited me to visit the school at one point," Tonsor said, "I liked everything out there (about the program) and the military is definitely something that has interested me, especially to give back to the country."   
Tonsor's wrestling accomplishments are an incredible story, especially considering the health scare almost two years ago that occurred in the middle of practice.
According to his mother, Tonsor was unable to walk properly and was hospitalized for three days.
Click HERE to read Shannon Tonsor's story about Noah and his health scare
Despite obvious signs something was wrong, Tonsor said he was never truly scared. "I felt fine honestly and was ready to leave the hospital the moment they cleared me; I am glad it wasn't serious but I wasn't too worried either."
Shannon Tonsor in emotional piece about Noah's journey wrote that the Neurology Department eventually diagnosed Noah with "Post Viral Infectious Cerebellar Ataxia" a condition, although nerve-racking, Noah would eventually fully recover.
The recovery was nothing short of remarkable, as a mere 10 days removed from the hospital, Noah was back on the mats in a competitive setting, wrestling three matches, going undefeated including a pinfall win against the No. 3 ranked wrestler in the state a full weight-class above Noah.
Less than a month later, Noah powered his way through both WIAA regionals and sectionals, to ultimately claim the sixth place and final spot on the individual state championship podium.
After that impressive run Noah continued to train, much in the same way he had before the hospitalization. "I spent a lot of time training in the summer and during the season to make it to that point; I accomplished that goal," he said.  
The end of this past season (2021) saw even more success for Tonsor as he managed to win the WIAA D1 state individual championship in the 113-lb division.
In keeping with his humble nature, Noah credits his wrestling lineage and tradition for much of his success. "Every male on my dad's side of my family has been a wrestler dating back to my grandfather who was a national runner-up," Noah said.
When asked what advice he would give athletes, especially when balancing academics, Noah said it's "important to maintain a clear focus on one thing at a time."
"When I am doing my homework, I am not worried about wrestling and vice versa," he said.
From the wrestling perspective, Noah concluded with some advice to aspiring wrestlers. "You may struggle or not be very good at the start, but keep at it and persevere, especially with mental goals that you want to achieve."
This perspective is echoed by his dad Bill Tonsor, one of Noah's coaches, who said the greatest thing about wrestling is it builds mental strength and toughness on top of the obvious physical aspects.
He also made special note of just how hard a worker Noah is, citing the pinfall victory shortly after his hospitalization. "It really shows what kind of mindset Noah has. He doesn't want preferential treatment or special thanks; he just wants to be a guy on the team."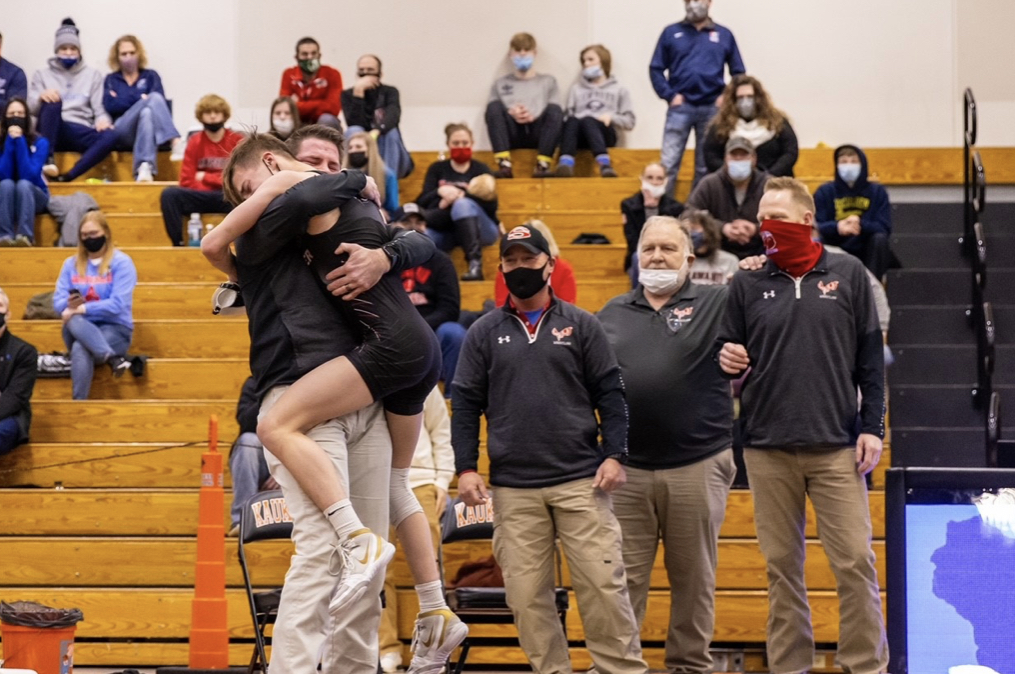 After Noah won, he ran over and jumped into his dad's arms (who is also one of his coaches).  The three men watching are Jeff Rollins (Coach), Bruce Tonsor (Grandpa & Coach) and Cody Tonsor (Uncle & Coach)
Noah Tonsor will take part in a signing ceremony December 10, 2021 at 1 p.m. at Slinger High School.
Photos by Stacy Schiesl Photography