'Slowburn' to open Friday, July 26 for Kings of Chaos at the Washington County Fair
July 24, 2019 – Town of Polk, WI – Washington County Fair is excited to announce the Milwaukee-based hard rock band, Slowburn, will open for Kings of Chaos this Friday night, July 26.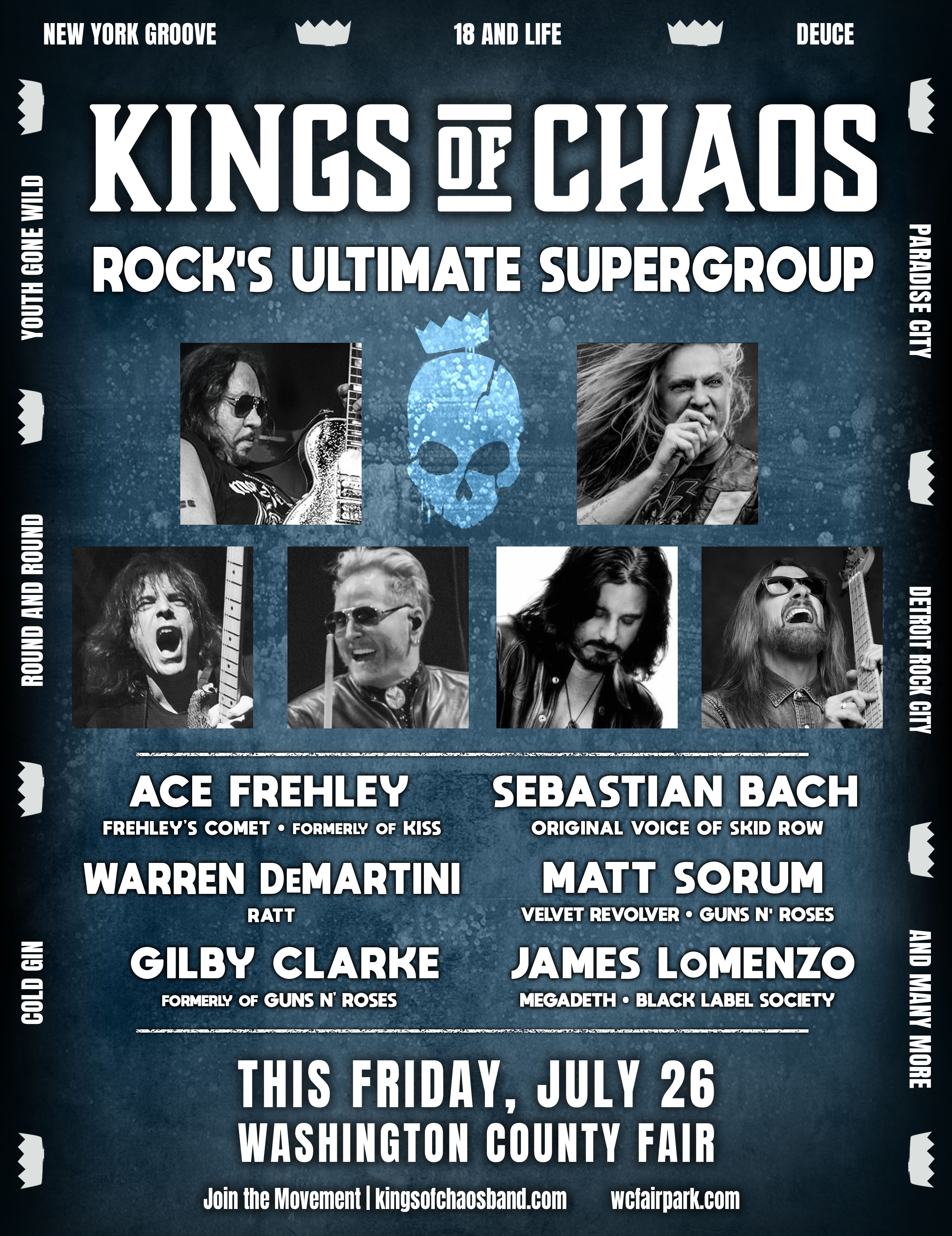 Slowburn has received numerous recognition on Wisconsin rock stations for its post-gunge hard rock sound.
Friday July 26 Kings of Chaos will rock the Washington County Fair.
The lineup will be comprised of Ace Frehley (formerly of KISS), Sebastian Bach (original voice of Skid Row), Gilby Clarke (Guns N' Roses), Warren DeMartini (Ratt), James LoMenzo (White Lion, Megadeth), and Matt Sorum (Velvet Revolver, Guns N' Roses).
After touring and recording with The Cult, Guns N' Roses, Velvet Revolver and many others, Rock & Roll Hall of Famer Matt Sorum created Kings of Chaos, an amazing rotating lineup of top musicians.  These guys would all rather go kill it on stage with their friends in Kings of Chaos than spend down time from their 'day jobs.'
KoC always delivers a bad-ass lineup, and pretty well ensures you won't see the same show twice.  Where can you see one show packed with hits like "Detroit Rock City", "Paradise City", "18 and Life" and "Round and Round", all performed by the actual artists. That puts KoC at the pinnacle of the greatest song list in Rock n Roll history.
The rest of the lineup need no introduction; they're all multi-platinum artists with a massive collection of hits, many of which will be performed on Friday.
What do musicians have to say about Kings of Chaos? Billy Gibbons calls KoC "A collision of enthusiasm."
Slash: "…a group of guys with the same rock 'n' roll spirit getting together to have a good time."
And Matt? Pure and simple: "A celebration of Rock n Roll."
 
Other Headliners for the Fair are Dylan Scott with Mitchell Tenpenny & Travis Denning on Thursday night, July 25, and Billy Currington with Nora Collins on Saturday night, July 27.  A full schedule of events can be found HERE.