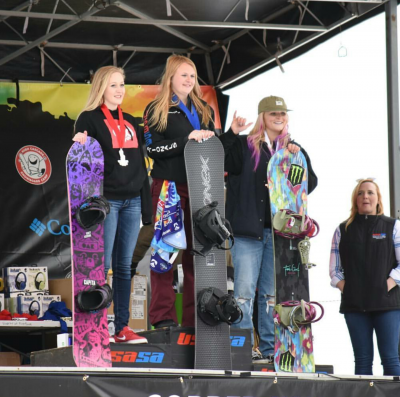 April 7, 2017 – Slinger, WI – The past few days at the 2017 USASA National Championships have gone extremely well for Slinger racers.
Slinger senior Alec Nelson placed 10th overall in the Giant Slalom on Wednesday. Slinger senior Cade Miller placed 24th and Slinger senior Connor Zapfel placed 3rd in his Slalom race on Tuesday
Slinger High School alum Jayna Schmittinger reached the winners podium with a 3rd-place finish in her Boardercross race Wednesday.
Thursday was a particularly amazing day for not only Slinger athletes, but those in our series.
Alec Nelson placed 6th in Slalom, and Cade Miller placed 19th.
In Giant Slalom on Thursday, Jayna Schmittinger placed 4th in her age group.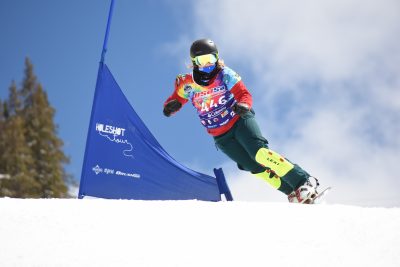 I had a hard-fought battle through finals against Cottage Grove's Gillian Arnold to barely pull ahead and place first.
Homestead Freshman Sydney Wilson also placed well today. Because Homestead doesn't have a team, Slinger considers Sydney as one of our own racers.
She placed 5th in the Giant Slalom, but took 2nd in the overall competition. Harrison Prellwitz is also a freshman at Homestead High School. He raced very well this week for his first time in Colorado.
This week has been an exciting but eye opening experience for many of Slinger's racers. Cade Miller, Jayna Schmittinger, and Alec Nelson have never snowboarded anywhere except on our little mountains back in Wisconsin, so being able come to this higher elevation and accomplish as much as they did is impressive. I am super proud of everyone's accomplishments this week and I wouldn't have wanted to be a part of any other team.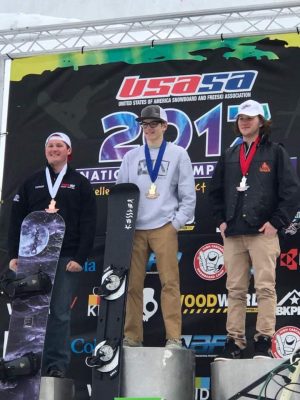 Even though I have mentioned how they did, I want to personally congratulate my brother Connor Zapfel, Alec nelson, Cade Miller, our coach Jayna Schmittinger, Sydney Wilson, Harrison Prellwitz and Gillian Arnold for an outstanding week of competition and racing.
I would like to thank many people too. Sydney Wilson's parents, Dana and Brian Wilson, are the directors and the backbone of our home town series. The Midwest Best series wouldn't be what it is without them and we would like to thank them.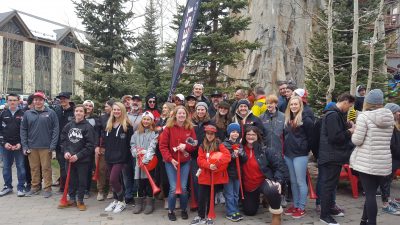 I would like to thank Dylan Jansen, Brain Wilson, Jayna Schmittinger, and my dad Paul Bullis for coaching myself and the rest of the team out here in Colorado, for we wouldn't have performed as amazingly without them.
I would like to thank Jeremy Lambie at JL Business Interiors, Jim and Angie from Bomber, Olympian Katie Tsuyuki and Sean Martin Donek Snowboards for the amazing rides, and Dave Haase and Chris Schultz at Attitude Sports for the amazing tuning jobs throughout the season.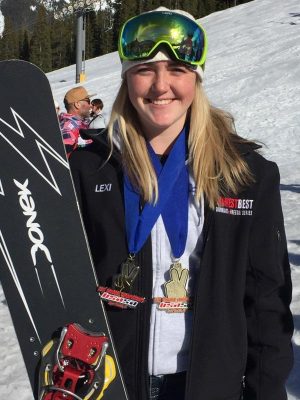 Without the help of this great support network I wouldn't have been able to accomplish as much as I have this season.
Thank you for all of the support back at home!
Lexi Bullis
Photos courtesy Lexi Bullis.