Sobelman's Plan Is Out, New Plan is In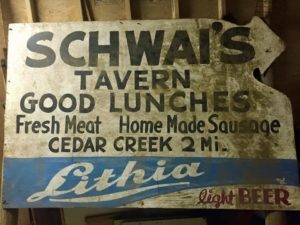 Some changes are in the works for the former Schwai's in Cedar Creek.
For the past 2-and-a-half years property owners Kevin and Amy Zimmer have been working to remodel the space at 3747 Cedar Creek Road; the couple purchased the property in August 2014 with the intention of eventually leasing the space.
Initial plans were to open as a Sobelman's Pub and Grill.
Washington County Insider has confirmed those plans are changing and the franchise will no longer be coming to West Bend; however, another bar and restaurant is in the works for this location.
Ben Anderson, one of the partners in the new venture, said in a statement to Washington County Insider, "Unfortunately, we were unable to come to terms to foster a long-term, mutually beneficial relationship with Sobelman's. We wish nothing but the best for Dave and team in the future. With that said, we're incredibly excited to still be opening a restaurant with a different concept in the historic Cedar Creek location and will be releasing details in the coming weeks."
Anderson is looking to open the new restaurant and bar with his business partner Travis Dowden.
Building owner Kevin Zimmer says, "I'm happy and excited for Ben and Travis."
Washington County Insider will be releasing more details in the coming days.