Solomon Zarling is a leader on the court and in the classroom at Kettle Moraine Lutheran | By Jacob Moeller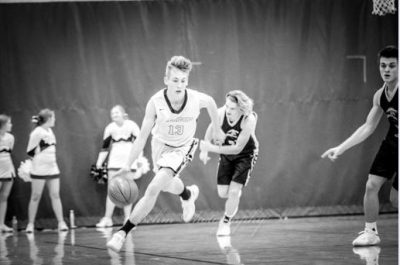 Jan. 26, 2018 – Jackson, WI – Kettle Moraine Lutheran's Solomon Zarling has enjoyed an excellent start to his senior basketball season, leading the Chargers with 13 points per game as well as adding a keen eye for a pass and stellar defense.
The hardwood is hardly the only place where Zarling excels. He has achieved great things in the classroom, posting a 3.987 cumulative GPA through seven semesters and twice being named KML's student of the month.
In other extracurriculars, Zarling has been active in volunteering as part of the National Honor Society and was elected as president this year.
He also is an accomplished golfer, earning a scholarship to NCAA Division II Trevecca Nazarene University in Nashville, Tennessee, where he plans to study accounting.
With all this on his plate, there's little time to waste, but Zarling has found a way to maintain a balance. "You have to define a list of goals and priorities that you hold yourself accountable to," Zarling said.  "Without these, it's easy to lose track of time and manage your homework poorly. Dedication and focus is necessary, and the drive to succeed is crucial as well. Using assignment notebooks and setting aside time to get homework done on a consistent basis will prove successful in the long run."
After KML lost leading scorer Joey Behm last season, it became clear returning players would need to step up to fill the void. Lacking a true superstar, the Chargers use disciplined and unified play to get their baskets.
Zarling said, "This year we have four to five consistent scorers who work within the offensive blueprint to get their points. Very few times will you see a forced shot in a one on one situation. We work together and want to find the open man and get the easiest basket possible."
This strong connection and commitment between players is partially the result of an experienced roster, featuring 10 seniors. This experience allows for strong chemistry and maturity to handle tough situations.
"With so many seniors, we have a plethora of experience playing at the varsity level," said Zarling. "The experience of our 3-year varsity players in seniors Andrew May and Grant Biesterfeld is important for leadership and consistent play day in and day out. We also have been through tough losses last year as juniors, so we will know how to respond better in crunch time."
The Chargers have come up big in important situations this season, rallying to defeat conference rivals Waupun, then ranked No. 4 in the state.
Zarling played a pivotal role in the victory, posting 13 points and 5 assists, as well as locking down Warrior star Marcus Domask on the defensive end.
Coming off a disappointing 12-13 record last season, KML has started strong, posting a 9-4 record which includes a perfect 6-0 in the East Central Conference.
Zarling has high hopes for what this group can accomplish. "Our goals as a team are to finish at the top of conference and make a playoff push," he said.  "We have put ourselves in position to be a dangerous team in a tough sectional. As long as we stay focused and keep our intensity up during practice, we will execute in big games. We have to enjoy the process and not get too big of a head or look too far into the future. One practice and one game at a time."
Photo courtesy of Diane Behm