May 23, 2021 – Mayville, WI –  Sophie L. "Sophie Lynn" Gundrum passed away at the age of 2 in the loving arms of mom and dad on Monday, May 17, 2021.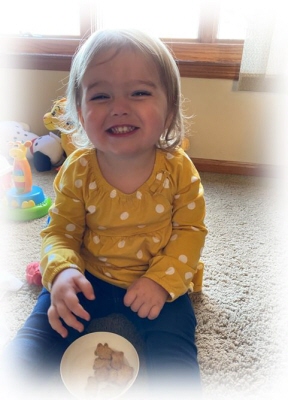 Sophie was born on October 29, 2018 in Glendale, Arizona to Jake and Kendra (nee Bruggink) Gundrum. She is the proud big sister of Grant.
She is the cherished granddaughter of Jeffrey and Jannah Gundrum, Jay Bruggink, Becky and Marty Brath and Donna and John Kruse.
Dear niece of Stephanie and Matt Haas, Timothy and Torri Gundrum, Emily and Tim Borkenhagen and the late Matt and Jon Gundrum.
Also very lovingly survived by many other relatives and friends.
Unknowingly, Sophie was born with a condition called Metachromatic Leukodystrophy (MLD), but that didn't slow her down or have any effect on her the first two years of her life. In the short time we had with her she really loved her three wiener dogs, swimming with mom and dad in the pool, chicken nuggets, dancing and music. She loved all sorts of Disney movies; her favorite being Moana.
Sophie was the proudest big sister to her little brother Grant. She always wanted to hold him and feed him but was also always taking his blankie and pacifier. She always had a beautiful and uplifting smile that brought so much joy to everyone's day. She was an absolute delight to be with and she made life so much more meaningful.
A celebration of life will take place at American Legion, 134 S. Main St., Mayville, WI on Sunday, June 6, 2021 at 11 a.m. with light refreshments to follow until 4 p.m.
Shimon Funeral Home is handling the arrangements.

The family gratefully acknowledges flowers but would appreciate memorial contributions for a cross-country family road trip. Click HERE to donate.
Sophie's family would like to send a huge love filled thank you to all those that were so instrumental in her care over the last six months. All of the kindness surrounding Sophie's fight against MLD was truly heartfelt.
Sophie Lynn, you are so loved and will be so missed by all who knew you.
With all of the love in the universe,
Mommy, Daddy & Grant