West Bend, WI – Due to our continued growth, Spaulding Clinical is looking for a couple of talented nurses to fill our AM Clinical Research Nurse Charge role, or our NOC Shift Supervisor/Clinical Research Nurse Charge role.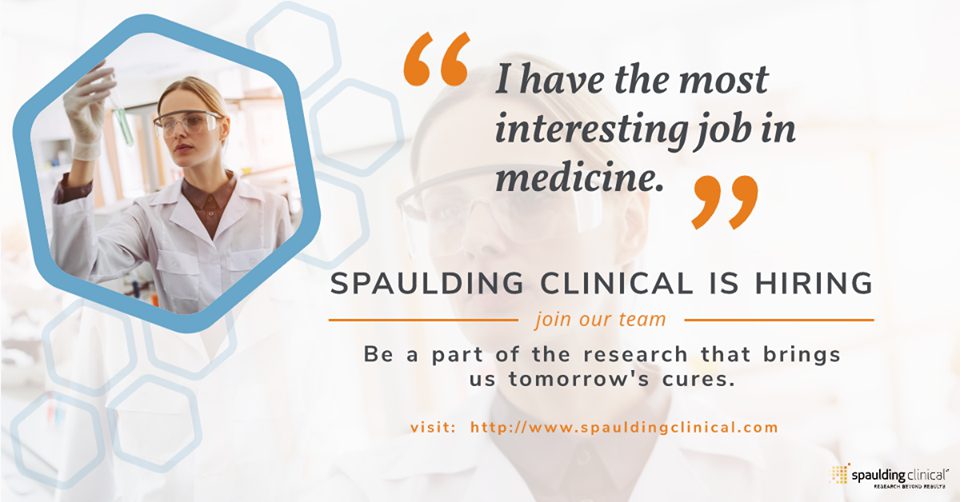 At Spaulding we like to say we have the most interesting job in medicine.  As the research world is small, we take your basic nursing skills and offer training in clinical research.  These positions offer growth in the clinical research world and can take your career in directions you may have never imagined. Nursing in research is also "helping to care for people" by helping to bring tomorrow's cures to market, which as our mission states, makes the world a safer place!  Right now, the world can use a safer place, and we could use your skills to do our part to make that happen.
Spaulding Clinical is located in a quiet, residential neighborhood in West Bend, WI. Additionally, we offer a Work Life Balance (WLB) Model for this full-time position…which means an average of a 35-hour work week while also being fully benefited…Health, Dental, Vision, STD, LTD, Supplemental Life, Supplemental Income, 401k with Match, Holidays, and PTO.
Both roles have competitive salaries, full benefits, and WLB model of scheduling.  If you would like to learn more about either of these positions, please apply through Indeed or on our website at http://www.spauldingclinical.com/index.php/careers/18-jobs
If you are not personally interested, but know of a coworker who may be, please feel free to share this unique opportunity with him or her.