Special game on tap tonight as Kettle Moraine Lutheran host Grafton in boys soccer | By Jacob Moeller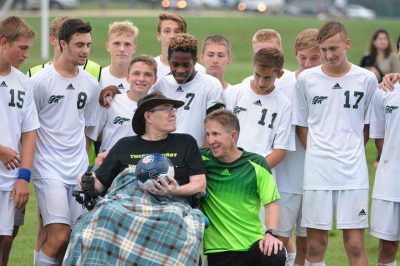 August 24, 2017 – Jackson, WI – After a hard-fought 1-1 draw with Hartford on Tuesday, Kettle Moraine Lutheran turns its attention to Grafton, currently ranked No. 5 in the state for Division 3.
The game kicks off at KML's Catalyst Coliseum at 7 p.m. tonight.
This match will also serve as KML's annual "Ataxia Night," in honor of former assistant coach Barry Washburn, who died of ataxia on Oct. 6 of last year.
To support ataxia research, donations and t-shirt sales will be taken during the game, with all proceeds going to the National Ataxia Foundation, in the hopes of eventually finding a cure.
Grafton enters tonight's game with an 0-1 record. The Black Hawks opened the season with a 2-0 loss against Catholic Memorial.
Photo courtesy of Diane Behm