Special guest at this year's Allenton/St. Lawrence Fire Department Open House on Sunday, Oct. 15 | By Ron Naab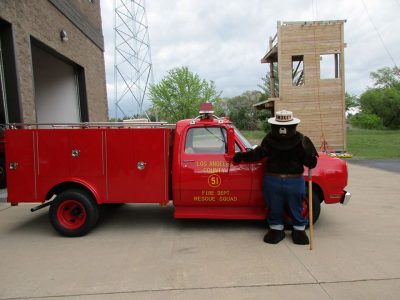 Oct. 11, 2017 – Allenton, WI – At the Allenton/St. Lawrence Fire Departments' Open House and Pancake Breakfast there are many features for all ages.  Some of those are teens and adults actually using a fire extinguisher on a LIVE fire, participate in a scavenger hunt, visit with fire safety association, and see the Sheboygan County Pink Heals Fire Truck.  Recently the fire department was notified that an exact replica of "Squad 51" from the TV show of the 1970's will be in attendance.
"Squad 51" was built by Paul Rebers of the Grand Rapids Fire Department, outside of Wisconsin Rapids.  Rebers built the body, running boards and back bumper in his shop after years of researching the original on the TV show "EMERGENCY."
"'EMERGENCY' probably had the most profound effect on how the U.S. handled emergency medical calls.  In was the beginning of emergency medical services as we know it today, according to Ron Naab a veteran firefighters of the Allenton Volunteer Fire Department.
The famous duo of Roy and Johnny responded in their 1-ton Dodge truck with many lifesaving skills and equipment. The show was on Saturday evenings from 1972 through 1979.  It is now shown quite often on ME-TV.
In addition to the body being an exact replica, the truck is equipped with the exact Federal Light Bar.  All the tools of the trade as they were used in the early 1970's, including a K-12 Saw, Bio-phone radio, defibrillator, drug box, even replica shirts with badges and name tags.
On a trivia note: What were Roy and Johnny's last names on the TV show "Emergency."
Be sure to tell Ron Naab during Sunday's breakfast…. he'll be encouraged by the number of people who also grew up watching the show.