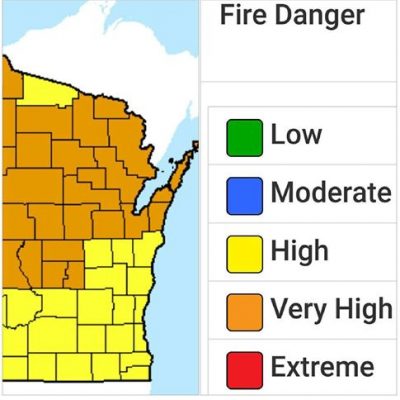 April 10, 2017 – Washington Co., WI – Fire officials and the Wisconsin DNR have issued a friendly reminder that springtime creates a renewed hazard for firefighters and those of us that live in rural areas.
On Sunday the Wisconsin Department of Natural Resources posted the above warning map.  As of Saturday,  April 8 at 2:30 p.m. there were 13 wild land fires going on at the same time in the county.
Monday afternoon many areas in the state were at moderate or low fire danger, except for far southwest Wisconsin area.
There was not a lot of heavy wet snow which would ordinarily have pushed vegetation down.  With high winds, dry air and warm temperatures the grass and other plant life has dried.
As we go about cleaning up our properties be cognitive of the surrounding conditions.  Many fire departments have responded to what was to be a small brush fire, burning leaves, and dead branches however, when the wind kicked in now the potential for fire includes wild lands, corn fields and sometimes even buildings.
Another good reminder is to check whether your township requires a burn permit.
Allenton Volunteer Firefighter Ron Naab reports central Wisconsin had quite a number of fires over the weekend.  "Fire permits are free, so don't play with danger; be sure it is safe to burn," said Naab.