St. Joe's RN Ashley Lynn wins Froedtert's DAISY award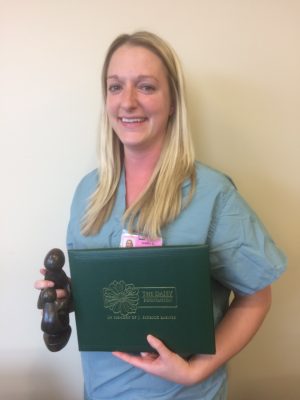 Nov. 23, 2016 –West Bend, WI –  Ashley Lynn of Campbellsport, RN in the Birth Center, has been recognized with Froedtert & the Medical College of Wisconsin St. Joseph's Hospital's first quarter DAISY Award for her patient care and professionalism.
"Ashley was the heart of our experience, she was the first nurse we met and the last nurse to discharge us," said the award nominator. "Her bright smile and genuine kindness always made me feel confident to take on each new motherly challenge, so much so, that it was hard to say good-bye. Without her positivity and compassion, I know I would have had a much harder time during my stay."
The DAISY Foundation, an acronym for Diseases Attacking the Immune System, recognizes nurses as unsung heroes of our society who deserve more recognition and honor than they receive. More than 1,000 hospitals throughout the United States participate in The DAISY Award program.
The DAISY Foundation provides each recipient with a sculpture, "A Healer's Touch," that is hand-carved for the foundation by artists of the Shona Tribe in Zimbabwe. The sculpture is made of Serpentine stone that comes from the mountains "where the most powerful shaman" live in Zimbabwe. The foundation chose this design not only because it depicts the relationship nurses have with their patients, but also because the Shona people hold their healers in a position of great importance to the community and feel about their healers the way The DAISY Foundation and St. Joseph's Hospital feel about nurses.
At St. Joseph's Hospital, Ashley was honored at a recent ceremony at which she received a certificate, pin and the sculpture. Unit staff were also treated to Cinnabons in accordance with the DAISY tradition.
Courtesy Tim Olson