Kewaskum, WI – On Sunday, September 25, 2022, St. Michael's Church, 8883 Forest View Road., Kewaskum, WI, will be hosting the annual St. Michael's Festival.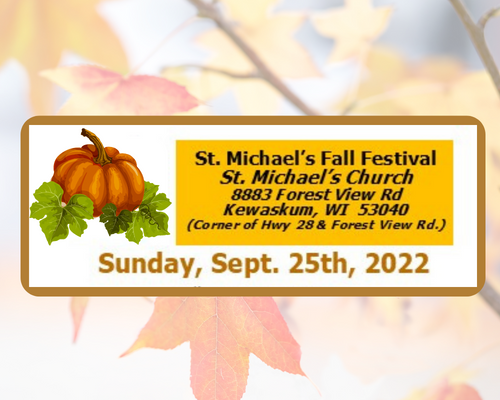 The Festival will kick off with a Polka Mass at 9 a.m. with music by The Goodtime Dutchmen.
A roast beef and ham dinner will be served from 10:30 a.m. until 2:30 p.m. Adults will be $15, children are $5, and 3 and under are free. Carry-outs will be available with a drive-through option. Handicapped accessible.
Click HERE to SUBSCRIBE to FREE local news at
The afternoon entertainment will be Carol and the Keynotes and The Goodtime Dutchmen.
There will be raffles, a silent auction, dunk tank, tug of war, games, ice cream, refreshments, and more.