St. Patrick's Day Mass this morning, March 17, at Holy Hill | By Steve Tennies
March 17, 2018 – Washington Co., WI –  You may know that ever since St. Patrick Parish in Erin and St. Kilian Parish in Hartford merged in 1999, there has generally been a special St. Patrick's Day Mass still held at St. Patrick's Church each year on this wonderful saint's day of March 17.
Sadly, it appears this year will be one of those during which St. Patrick Church will be standing silent on its Patron's day — though hopefully things will back to "normal" again on St. Patrick's Day in future years.
In the meantime, a few people who have a special connection and/or devotion to this annual Mass reached out to our wonderful Discalced Carmelite Friars at Holy Hill to ask if they would be so kind as to take in this "homeless" Celebration this time around, and they graciously agreed.
In fact, a number of things are coming together to make this an amazingly unique and (Irish) Spirit-filled Mass. As a mere introduction here are some very basics, just for "starters":
    – Holy Hill  is a wonderful 2018 "temporary home" for this Mass, and — Lord-willing — it will be returning back to St. Patrick's Church in Erin again in upcoming years.
    – The Mass will begin at 8:30 a.m. this Saturday, March 17, and will be held in the Main Church (level 3) of the Basilica of the National Shrine of Mary, Help of Christians, at Holy Hill.
     – One extremely rare, prayerful opportunity that has arisen is that a first class relic of St. Patrick — in this case, an actual piece of his bone (officially certified by the Vatican) — will be present at the Mass, and will be able to be venerated by the faithful in the Basilica immediately afterwards.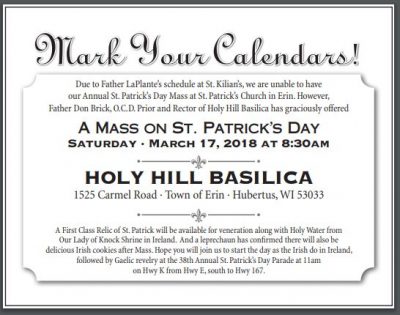 – There are a couple of other very nice things available in conjunction with the Mass including Holy Water from the much-admired Our Lady of Knock Shrine in Ireland, and even delicious Irish cookies too.
     – In a cooperative venture, a specially-prepared menu of delectable Irish fare will be offered at the Holy Hill Cafe all of the way from 8 a.m. until 3 p.m.
     – Fr. Donald Brick, the Rector of the Basilica and Prior of the Discalced Carmelite Friars there, will be celebrating the Mass, and a visiting priest of fine Irish heritage, Fr. Robert McDermott of Kenosha, will be concelebrating.
     – Holy Hill's sonorous organ and a choir will have St. Patrick-related and Irish hymns ringing throughout the Neo-Romanesque Basilica, including the "Lorica of Saint Patrick" and "Hail, Glorious St. Patrick" (which is still sung "loud and proud" every St. Patrick's Day on the Emerald Isle among many others.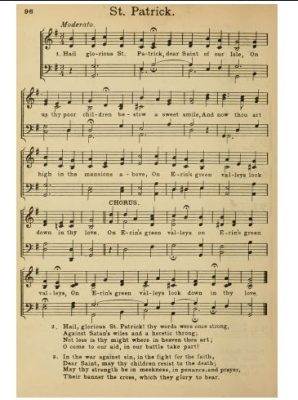 – And to top it all off… it was announced at Holy Hill last Sunday that Archbishop Listecki has just given special permission for the Carmelites to celebrate this year's Mass on St. Patrick's Day as a Feast Day rather than just a Commemoration, even further helping to reclaim the true meaning of St. Patrick's Day in the Town of Erin.