Washington Co., WI — Veterans from Washington County will be participating in the Saturday, Aug. 29 Stars and Stripes Honor Flight (SSHF) first ever "Parade of Honor."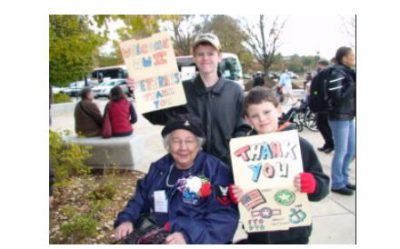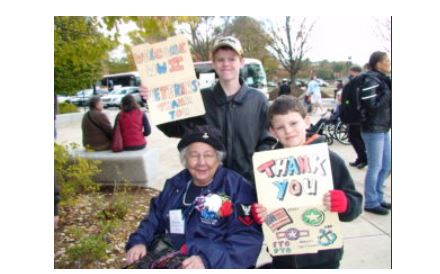 Over 180 WWII, Korean War and Vietnam War veterans will take part in a car parade from Canal Street to the Milwaukee County War Memorial Center and back.
"The Parade of Honor is a way to honor our veterans who were scheduled for Honor Flights earlier this year, and whose flights have now been postponed indefinitely due to the virus," said Paula Nelson, president of Stars and Stripes Honor Flight. "We are thrilled to have an opportunity to bring our community together to thank these veterans in a safe way while they wait for their Stars and Stripes Honor Flight in 2021."
The event will kick off at 9:50 a.m. with the live-streamed singing of the National Anthem by local teenage acapella group "Vintage Mix."  When the parade begins at 10:, the veterans and their drivers will take a trip through nearby Wood National Cemetery, and then proceed east on Canal Street from 25th Street to 6th Street.  The parade will go north on Sixth Street to Juneau Avenue, then east to Broadway, south to Mason Street, and then east to the Milwaukee County War Memorial Center for a drive-through visit full of honor and surprises from fellow veterans, active duty military and local VIPs. Once the veterans and their drivers have circled through the War Memorial, they will head south to Clybourn Street, west on Clybourn to 6th Street, and take 6th back to Canal to return to the starting point. A downloadable map for attendees can be found on the organization's website, www.starsandstripeshonorflight.org.
Veterans who will be participating in the Parade of Honor include two WWII veterans, a Korean War Marine who fought in the brutal conditions at the Chosin Reservoir, a Marine who received a Purple Heart for combat injuries suffered in Vietnam, and a veteran who served in three separate branches of the military from 1960-1991. 
Veteran and community safety are priorities for the event, and Stars and Stripes Honor Flight has developed the Parade of Honor under the guidance of physicians and law enforcement. The veterans will remain safely in their cars during the event, and the community is asked to wear masks and maintain social distancing as they line the parade route. "While honoring our veterans is incredibly important, keeping them healthy is even more important," Nelson said. "We want this to be a joyful and emotional event that will bring our community safely together and remind our veterans how much their service and sacrifices are appreciated."
Members of the community who would like to support and thank the veterans at the Parade of Honor are encouraged to gather in a socially distant way along the parade route; however parade spectators will not be allowed inside Wood National Cemetery, around Miller Park, or for the drive-through at the War Memorial Center. Veterans will be riding in the passenger seat of the car, so spectators are encouraged to gather on that side of the route.  
Stars and Stripes Honor Flight is the Milwaukee hub of the Honor Flight Network. Founded in 2008, the organization has flown more than 7,600 WWII, Korean War and Vietnam War veterans from southeastern Wisconsin on one day, all-expenses-paid trips of honor to Washington DC. As an all-volunteer organization, they are proud to share that more than $.97 of every donated dollar goes directly to honoring veterans. 
Timeline of activities for the Saturday, August 29th Stars and Stripes Honor Flight Parade of Honor: 
9:00 am –Veterans begin check-in in the parking lot of Derse, Inc., 3800 W. Canal Street, Milwaukee.
9:50 am – National Anthem by Vintage Mix Quartet, streamed on Facebook Live
10:00 am – Parade begins, heads west to Wood National Cemetery (see route details above)
12:00 pm – Parade ends in starting location