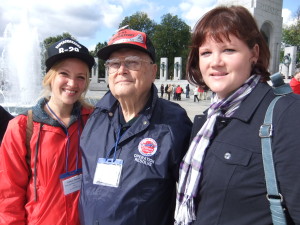 Stars and Stripes Honor Flight (SSHF) received two major awards at the 2016 National Honor Flight Summit held in Baltimore, Maryland on Feb. 19-21.
Of the 130 Honor Flight hubs in 44 states, Stars and Stripes Honor Flight was recognized as the leading hub with the highest overall number of veterans flown in 2015, as well as the highest number of Korean vets flown last year.
"We were thrilled to fly 758 local veterans to Washington DC last year for their day of honor," said Paula Nelson, president of Stars and Stripes Honor Flight.  "Of those veterans, 597 were veterans of Korea, the "Forgotten War."
We are so proud to celebrate so many heroes of the Greatest Generation, and we thank our many volunteers and the people of southeastern Wisconsin, whose incredible support has enabled us to thank these heroes in such large numbers."
The awards were presented by Honor Flight Network Executive Director Diane Gresse at the annual meeting of representatives from all Honor Flight hubs.
Nationally, Honor Flight hubs flew 20,886 veterans to Washington, DC in 2015.
Honor Flight
 is a national program with 130 hubs in 44 states.  The WWII Memorial did not open until 2004 and many veterans are unable to visit it without assistance.
Nationally, hubs in the Honor Flight network have taken well over 150,000 veterans to see their memorials. Stars and Stripes Honor Flight has honored more than 4,200 veterans from southeastern Wisconsin since 2008.