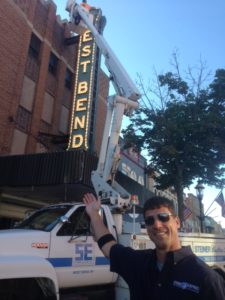 Nov. 17, 2016 – West Bend, WI – A dedicated crew from Steiner Electric will be working next week to make Downtown West Bend a little brighter.
Steiner Electric will be working through the night, Sunday, Nov.20  through Wednesday, Nov. 23 to replace all the lamps in the existing tracking on the lights that line the building rooftops. Sections of parking on Main Street will be blocked off during this time.
Steiner Electric anticipates working on the project during the hours listed below. If an additional day is needed to complete the project, they would also work on the evening of Wednesday, Nov. 23.
Sunday, Nov. 20: 6 p.m. – 6 a.m.
Monday, Nov. 21: 8 p.m. – 7 a.m.
Tuesday, Nov. 22: 8 p.m. – 7 a.m.
The Downtown Business Improvement District (BID) is funding the project and will continue to pay the monthly electric bill for the lights.
Earlier in the year, a survey was released by the BID to gauge community support for the lights, and the results showed 83% of respondents were in favor of keeping the building lights on.
As a result, the BID worked with the Downtown West Bend Association to coordinate replacement of the lamps.