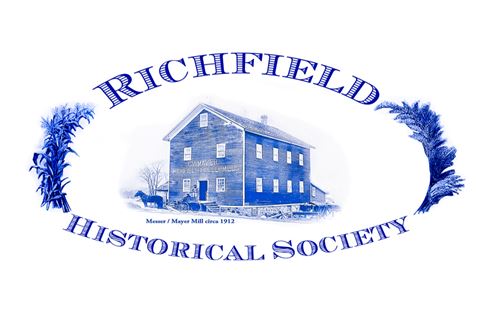 May 12, 2017 – The Richfield Historical Society, Richfield WI,  invites you to Step Back In Time on Sundays through the summer.  Beginning Mother's Day May 14   and including June 11,  July 9,  and August 13 , the Historical Park's Messer/Mayer Mill, Mill House and Lillicrapp Welcome Center will be open and staffed with tour guides to answer all of your questions.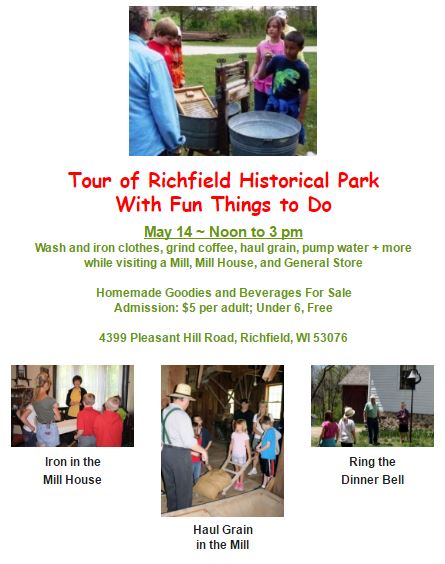 A visit to the Messer/Mayer Mill includes a demonstration on how flour was made from grain.  The Mill House tour includes original furnishings and exhibits of antique toys and a lesson on children's chores typical of the late 19th century.  Adding to the fun, visitors can participate in many engaging activities.
Watch and learn how to grind coffee, haul grain, play "what's that sound," ring a dinner bell and wash clothes using vintage washing methods.
Children 5 years old and under are admitted free.  There is a $5 admission charge for all visitors over 5 years old.   Parking is free.  Please use  the Richfield Historical Park entrance at 4399 Pleasant Hill Road.
For more information on how to become a member of the Richfield Historical Society and information and to get information about all of our annual events, visit our website www.richfieldhistoricalsociety.org and stay connected to us on Facebook and Twitter.  Funds raised at Richfield Historical Society events support the Society's educational programs and maintenance of the Richfield Historical Park.
The mission of the Richfield Historical Society, a 501c3 non-profit corporation, is to discover, collect, preserve and promote the history of the Village of Richfield.