September 9, 2020 – West Bend, WI – A bit of a Hallmark moment this week for Jodi Janisse-Kanzenbach of West Bend as she worked in her favorite room in the house. The head chef and owner of Precinct Tap & Table in Germantown was doing what she does best when she found the items, she was working with hit her right in the feelings.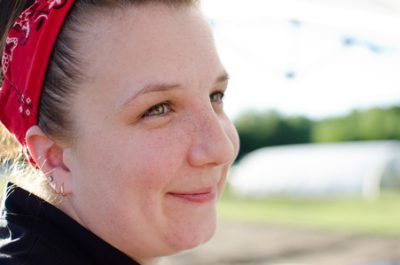 "Brought peace to me tonight baking in hand-me-down loaf pans I've had for 20 years. Using my Dutch oven from my husband, Pyrex bowls from a friend, and eating our dinner in vintage soup bowls kindly gifted to me after being found in a shed up north on my father-in-law's property. This is part of the problem I have with owning entirely too much kitchenware."
On that note, other Good Housekeeping type stories started to emerge as it appears many women have strong ties to their kitchens and tools of the trade.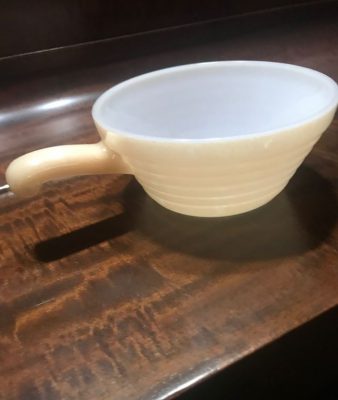 Carol H writes – "I inherited six of these Fire King ovenproof dishes from my mom who passed away in 2018. I think these were supermarket premiums. My mom used them mainly on special occasions or for special recipes like French onion soup. They were ideal for placing in the oven for melting the cheese on top of the soup."
Here's a baking pan (8 x 10" in size) with a sliding cover. I remember my mom using this pan for baking goodies like Blonde Brownies or Lazy Daisy Cake.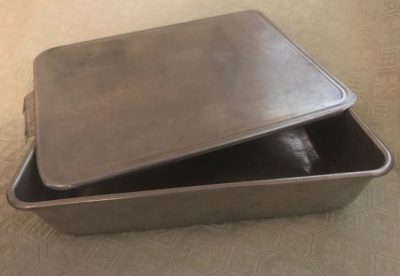 Stefanie Ulma of West Bend owned The Grasshopper Restaurant on N. Main Street. She was the head chef and made the beautiful bakery displayed in the glass case.
A photo is held tight to her home refrigerator with a magnet of the Pillsbury Doughboy. It shows a kitchen with relatable wooden cabinets, large-print wallpaper and three ladies working at the counter. Ulma said she started young, learning from her mother and grandmother.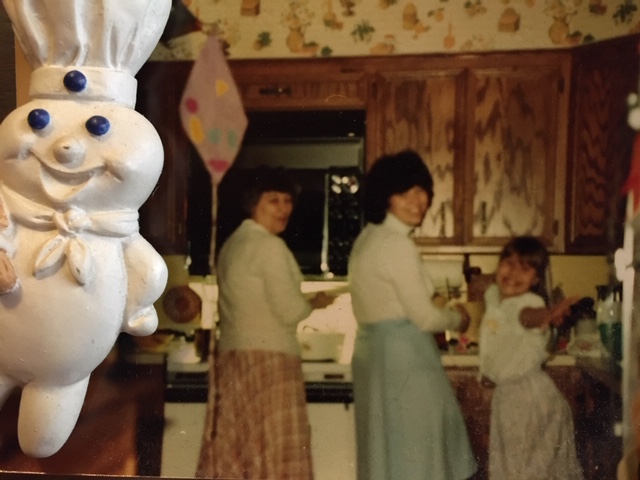 "Since I learned my passion from my Mom …of course I have all her recipe books along with notes on the sides of what to add and how good it was. I still use her big countertop mixer… the dough hook is a constant reminder that my Mom was an excellent bread maker (I only have a few recipes under my belt).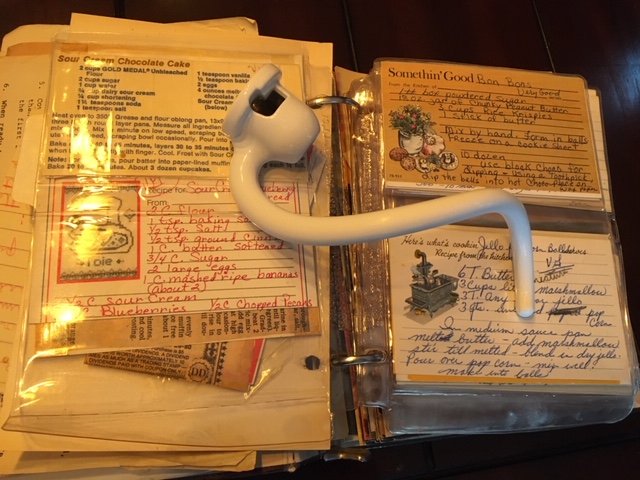 "This time of year especially. there was always a covered bowl in a warm spot in the house rising with some type of bread or pastry. At Christmas time I bring out her spritz cookie maker and her cookie cutters.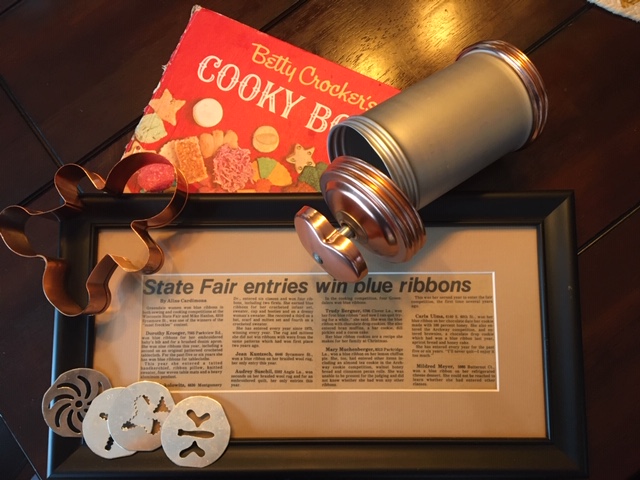 "Baking always reminds me of entering in the State Fair with my Mom. We would bake all day and night before and then sit all day with all these other women we made friends with from years before. We would cheer them on too and spend the day exchanging recipes and ideas and watch the judges take tiny bites of our items. My Mom won the Archway competition one year. Such an awesome memory.  I also have her aprons which I really wish SHE was still wearing ..showing me the ropes… I have so much more I wanted to learn from her."
Lori writes – Nothing in the kitchen from my mom. I do have a cast iron fry pan from my girlfriend's mom; she was a true hoarder.
I have a handwritten cookbook from my Mom…but not much else.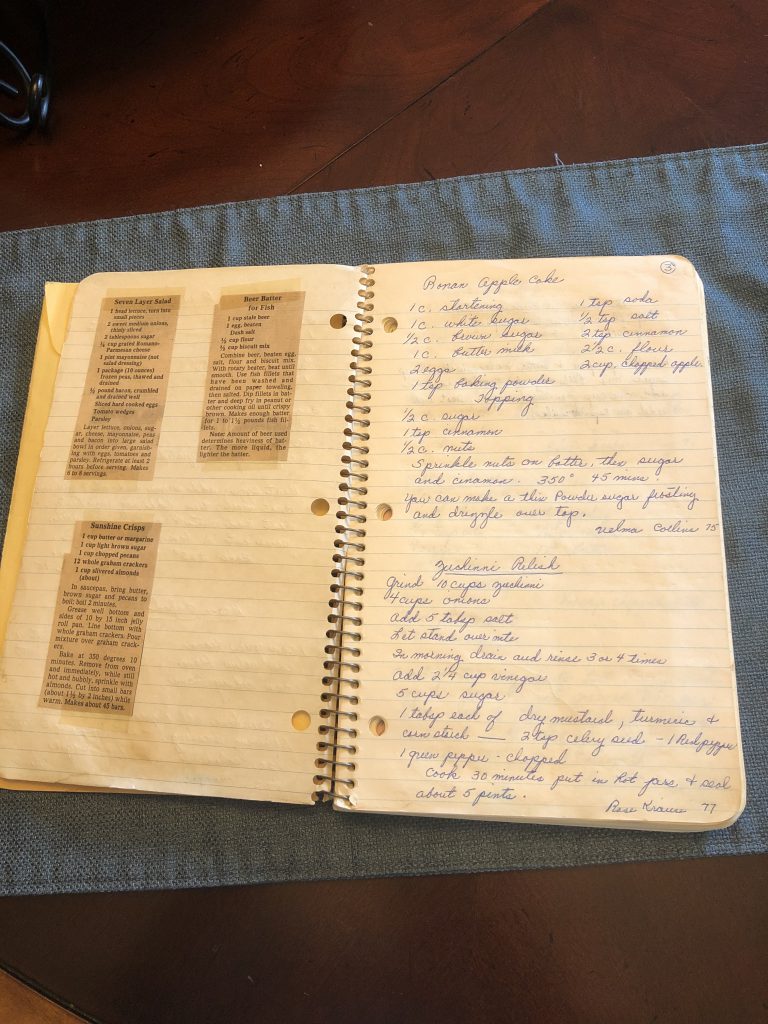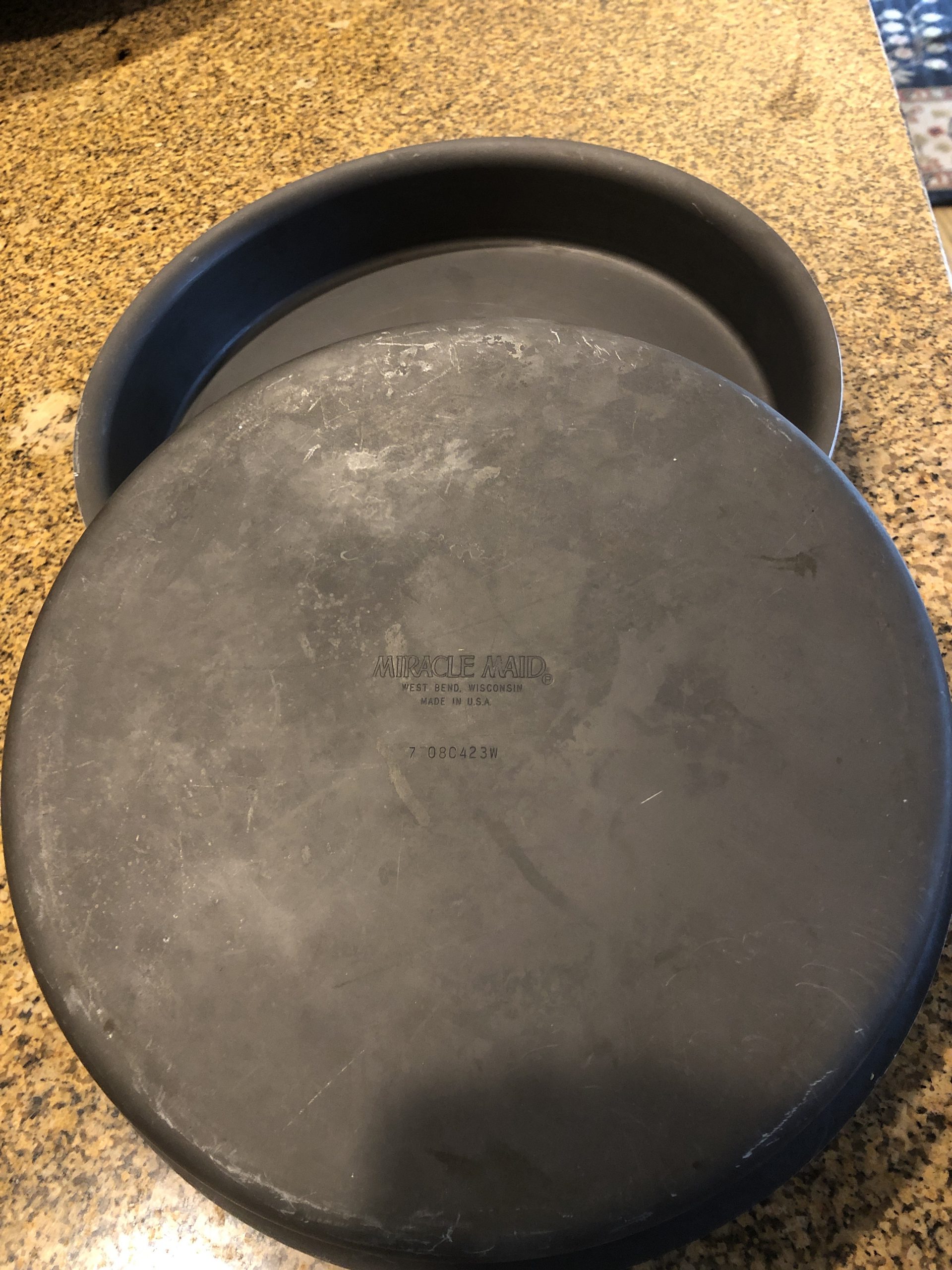 Oh, the two Miracle Maid West Bend Company cake pans…. that is what husband brought into the marriage 41 years ago.
RoxAnn Witkowski – What a great article. It made me go to my kitchen cupboards and see what I could find (besides, it was time to straighten).
There were the cast iron pans that were my grandmother's. Still great for browning meat and making Dutch baby pancakes. The Duncan Hines cookware made by Regal Ware in Kewaskum. It was waterless! I remember the time and planning my mother put into a dinner party. By hosting she got a discount on the purchase of the cookware. Fifty plus years later it is still being used daily.
She was very active in a homemaker's group. They would take trips around the state of Wisconsin. From Mirror aluminum in Manitowoc, I have an angel food cake pan and star Jell-O mold. Oh, the time it took to layer all that Jell-O. From West Bend the cake pans in all sizes. Those cake pans have been to hundreds of functions. Then there is the Pyrex ware. The design may be old but the durability speaks for itself. Taste of Home in Greendale I think was her favorite. She saved every cooking magazine from them. My sister and I still make many of the recipes and have passed them on to our children.
Thank you for sharing. I may no longer live in Wisconsin, but the memories are priceless. Take care y'all.
Darlene Hefter from Allenton – I use my mom's good china every time I have a sit-down formal dinner since I never had china. Love her loaf pans for baking bread; always gets so nice and brown in her pans. Always use her hand mixer for beating up eggs.  I do treasure wine glasses and other design glasses from my Grandma's and cut-glass relish trays I always use from my mom.
So with a few seeds planted, what kitchenware strikes a fond memory in your household?