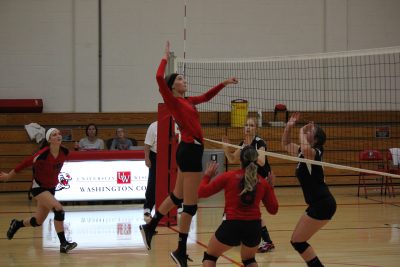 Sept. 25, 2017 – Washington Co., WI – The UW-Washington County Lady Wildcats won a tough match against UW-Sheboygan 25-16, 25-20, 28-30, 25-20.
Both teams played an intense match with hard hitting and great defense from both teams.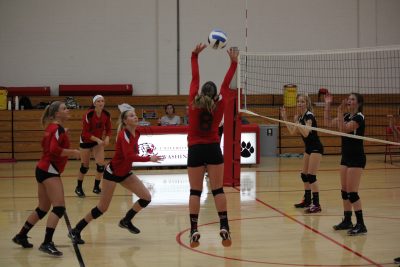 "Our goal was to slow the game down mentally and make each touch on the ball as simple as possible," said UW-WC coach Deb Butschlick.  "Both Courtney Peters and Ally Weix made some outstanding plays offensively and defensively.  Meghan MacFarlane and Kayla Boehm did an awesome job adjusting their hits to avoid the big blocks in the middle.  Kayla Schommer's setting is become more consistent to keep the offense as quick as possible.  Catherine Tucker is now understanding how to play a read-and-go defense."
Courtney Peters had 14 kills, 33 digs and 5 ace serves
Ally Weix had 11 kills, 16 digs
Meghan MacFarlane had 10 kills, 25 digs
Kayla Schommer had 34 assists for kills with 11 ace serves
Kayla Boehm had a career high 9 block with 9 kills
Catherine Tucker 37 digs
UW-WC is 6 – 1 overall and 2 – 1 in the WCC Eastern Division Conference.
The Wildcats next match is Friday, Sept. 29 at UW-Rock County starting at 4:30 p.m.