Student athletes at KML recognized for achievement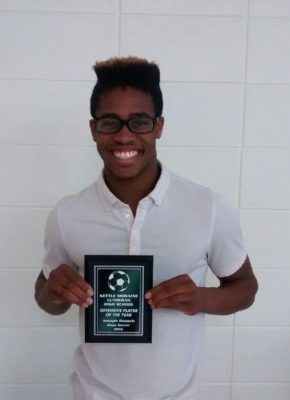 Nov. 11, 2016 – Jackson, WI – Kettle Moraine Lutheran held its boys soccer banquet on Thursday, celebrating a season in which it won a regional championship and finished second in the East Central Conference.
Junior Joseph Raasch was recognized as the team's Offensive Player of the Year and was nominated for the Wisconsin All-State team.
Senior Brandon Prahl was honored as Defensive Player of the Year. The team's Most Valuable Player was senior goalkeeper Joey Behm.
See below for a full list of the awards.
Luke Willis: Mr. Hustle
Alec Mueller: Left Side Scoring Threat
Logan Mueller: Smooth Operator
Justin Ninmann: Competitive Spirit
Jacob Moeller: Right Side Scoring Threat
Joseph Raasch: Offensive Player of the Year
Brandon Prahl: Defensive Player of the Year
Riley Asen: Decisive Challenger
Grant Biesterfeld: Relentless Effort
Jake Semenske: Student of the Game
Jacob Wilkens: Eager to Learn
Jeremy Gaeth: Renaissance Man
Ethan Duba: Rookie of the Year
Andrew Wolff: "Finding My Way"
Trevor Soyk: Air Force
Joshua Pahmeier: Mr. Versatility
Collin Liesner: 12th Man
Brandon Kisting: Most Coachable
Jacob Niemann: Most Improved
Joey Behm: MVP/Scholar Athlete
Noah Nichols: Salmon/Golden Croc
Conner Measner: Team Player