Students and staff at Addison Elementary School salute local veterans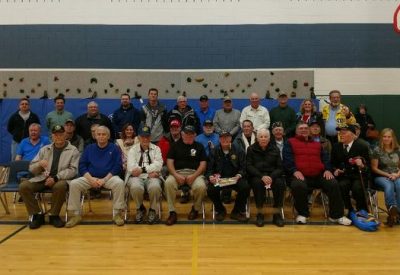 Nov. 4, 2017 – Addison, WI – Students at Addison Elementary in Slinger rolled out the red carpet and put on a show Friday as a salute to local veterans.
The pom pom squad, dance team and flag team put on a spectacular red, white and blue performance. The fifth graders belted out some traditional patriotic songs including the Star Spangled Banner and then veteran Howie Knox, 98, talked about history of Taps and joined in the salute with a rendition on his bugle.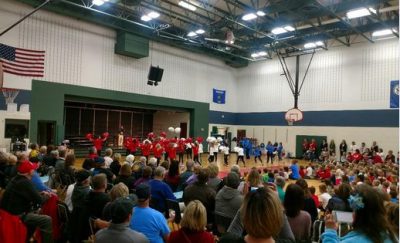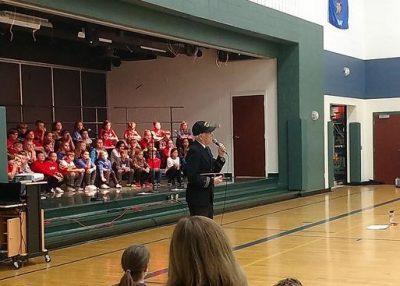 Veterans Day is Saturday, Nov. 11 and the traditional West Bend Veterans Day program will be held "at the eleventh hour of the eleventh day of the eleventh month." Next Saturday local veterans will gather at 10:45 a.m. at Veterans Plaza at Fifth Avenue and Poplar Street.
At 10:55 a.m., a brief statement will be read followed by a moment of silence. At 11 a.m., the siren will sound and the West Bend Veterans Color Guard will fire the traditional three-round volley followed by the playing of Taps.
Each year the number of citizens attending this brief service has increased and we hope this trend continues this year. We are inviting all citizens of Washington County to stand with us as we remember our veterans.
Cards for Veterans at West Bend Memorial Library
The American Legion Post 36 of West Bend will again sponsor the "Cards for Veterans" program at the West Bend Memorial Library. From Monday, Nov. 20 through Friday, Dec. 15, patrons visiting the library will find a display of Christmas and holiday cards.
All are encouraged to select a card, write a message to a veteran, and place the sealed cards in the box provided.  There is no cost for this service.
On Dec. 15, the cards will be distributed to veterans living in the West Bend area.
Donations of cards would be greatly appreciated. We wish to thank all of those who participated in this project in previous years.
Photos courtesy Joel Dziedzic