Salvation Army kicks off Red Kettle Campaign with celebrity bell ringer in Washington County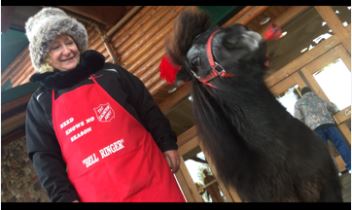 Nov. 4, 2017 – Washington Co., WI – The Salvation Army is kicking off its Red Kettle Campaign today and celebrity bell ringer Tinker will be on hand at Cabela's in Richfield from noon – 2 p.m.
The miniature horse is one of the more popular attractions for the Salvation Army.   Donations will be collected through Christmas Eve.  The goal this year is $3.8 million and all money raised stays local.
If you can't make it today to see Tinker the rest of his seasonal schedule is below.
Tinkers Schedule 2017
11/04/2017         Cabela's      Richfield     12:00pm-2:00pm
11/11/2017         Cabela's      Richfield     12:00pm-2:00pm
11/18/2017          Holiday Craft Fair, Fair Grounds West Bend
                                                                           9:00am-11:00am
11/18/2018   Sheboygan Kettle Kick off, Festival Foods Sheboygan 
                                                                           12:00pm-2:00pm
11/25/2017          Cabela's        Richfield    12:00pm-2:00pm
12/02/2017          Cabela's        Richfield    9:00am-11:00am
12/02/2017          Fleet Farm    1778 N Washburn, Oshkosh   1:00pm-3:00pm
12/09/2017          Craft Fair,     Fair Grounds West Bend   9:00-11:00 am
12/16/2017          Cabela's        Richfield     12:00pm-2:00pm
12/23/2017          Pick N Save South, West Bend, just off of Paradise Dr, 12:00 pm-2:00pm