February 13, 2021 – Fond du Lac, WI – The opening day of Wisconsin's 2021 sturgeon spearing season was frigid and snowy.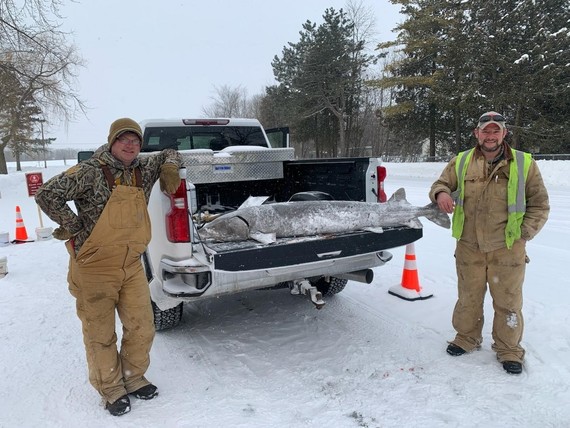 Conner Verstegen and Brandon Baker stand with a 75.4 inch, 119.7 pound F2 speared by Baker on Feb. 13, 2021. / Photo Credit: Wisconsin DNR
In total, 437 lake sturgeon were harvested on the Winnebago System, including 169 on the Upriver Lakes and 268 from Lake Winnebago. On Lake Winnebago, the registration stations at the Harrison Town Hall and the Winnebago County Boat Landing led the way with 76 and 59 lake sturgeon, respectively. The Marble Park registration station in Winneconne registered 69 lake sturgeon, the most fish on the Upriver Lakes.
Opening day aerial shanty counts did not take place due to inclement weather. We hope to be able to collect that data on Sunday, Feb. 14.
Water clarity remains clear in many areas of the Winnebago System. We anticipate a larger harvest on day two of the season. There is a long way to go before hitting quotas on Lake Winnebago, as only 129 adult females and 44 juvenile females were harvested today. The Upriver Lakes harvest has reached 40% of the allotted cap in the adult female and male categories.
Click here for the daily harvest report.
In total, 16 fish harvested on the system today weighed in at over 100 pounds, including a 160.1 pound (77 inches) F4 speared by Adam Derksen. Adam speared his fish on Lake Winnebago making it the largest fish harvested on the system today. The largest fish speared on the Upriver Lakes was a 127.2 pound (73.1 inches) F4 harvested by Steven Schilling on Lake Poygan.