February 23, 2020 – Fond du Lac, WI – There will be Food and Beverages available and handicap accessible.  The Dance is for the Non-profit Organization of the Mayville Lions Club that support their projects that make donations to various events for example Christmas decorations in the Park that is appreciated by everyone and other home-town projects.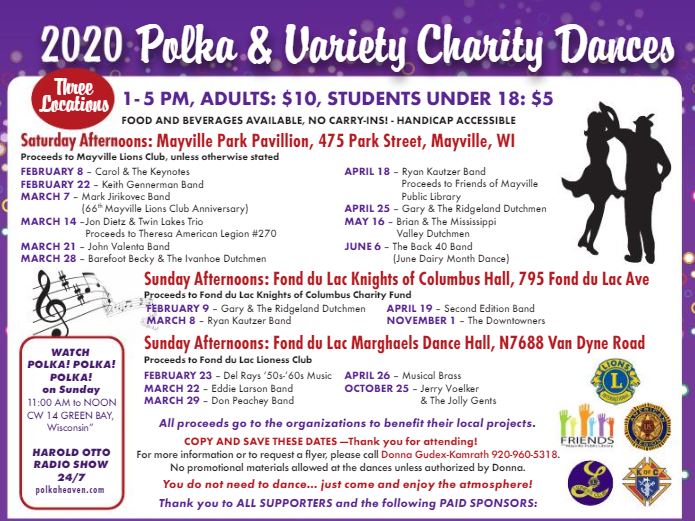 This is a fun-filled weekend with the Del Rays 50-60's
CLUB. PLEASE NOTE: Gary & The Ridgeland Dutchmen Band is rescheduled at Knights of Columbus for 
March 1, 2020
due to the weather on Sunday, February 9, 2020 had to be cancelled****.  PLEASE MARK YOUR CALENDARS!!!
It is the second time for The Keith Gennerman Band to play for the Mayville Lions Club Dances for the season.  They played for beer gardens across Wisconsin and the Midwest along with festivals, parties and other occasions.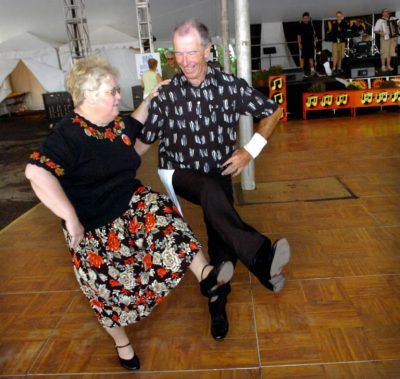 The Band is multi-talented and complimented on their vocals and harmonies along with great dance tempos. Keith Gennerman began playing the accordion at the age of 7 taking lessons for
5 years through the Beaver Dam 
Music Center
 at a Watertown location.  When 
Music Center
 closed, Keith packed the accordion
away for 5 years but picked up the tuba and bass guitar while in high school.
Before high school was over, friend "volunteered"
Keith to join a Dutchman-style polka band that was forming which was the beginning of a polka career.  The next 10 years of the
Polka road took Keith to a variety of polka and dance bands when in 1992 he assumed the leadership of what is now the Keith
Gennerman Band.  Keith is from Menomonee Falls on a MIDI accordion, adding various keyboard sounds and doing vocals.  He has
been entertaining for over 25 years for all ages with a variety of music and dance styles. Another talented, long-time musician in
Keith's band, playing drums and singing harmony vocals, is Tom Brusky from Milwaukee, WI.  Tom who grew up in a family of
accomplished musicians, is a music producer and multi-instrumentalist who has released 17 albums to date.  He also leads his
own authentic, third generation polka- variety band comprised of award-winning musicians.  Tom is the proprietor of Polkasound
Productions, a business he started in 1990 that provides audio recording a graphic design services exclusively to bands and musicians
in the polka music circuit.  With the likes of this talent, the sound will be like none other for the size of the Band. Playing banjo, guitar
and also doing vocals that make up the great Band of Keith Gennerman is a lifelong well known talented area musician is Mark Wenzlaff
of West Bend, that has played with Carol and The Keynotes and many others that fits in perfect with his talent.  For being a 3 piece Band
that has a sound like a 6 piece is very remarkable to have a group of talent musicians that play so well together.
Music is healthy for the mind and body promoting the dancing exercise that brings out the best in character.  You do not need to dance to come to the dances the socializing is the key of staying healthy and being among people enjoying a great atmosphere.  For future Dances there will be flyers available and for other dances that are networking with the Mayville and Fond du Lac Dances along with the future live TV Taping by POLKA!POLKA!POLKA! 
on March 8, 2020
at Knights of Columbus
The season has a great line up of Saturday afternoon Bands that you can come and enjoy the atmosphere. The next 2020 Lions Club Dances are:
March 7- Mark Jirikovec Band; March 14-Jon Deitz & Twin Lakes Trio sponsored by Theresa American Legion #270; 
March 21
 – John Valenta;
March 28- Barefoot Becky & The Ivanhoe Dutchmen; 
April 18
 – Ryan Kautzer sponsored by the Friends of Mayville Public Library; 
April 25
 –
Gary & The Ridgeland Dutchmen; 
May 16
– Brian & The Mississippi Valley Dutchmen; and June 6 – Back 40 – June Dairy Month Dance. PLEASE MARK YOUR CALENDARS the 
APRIL 4, 2020
 is RESCHEDULED TO 
MAY 16, 2020