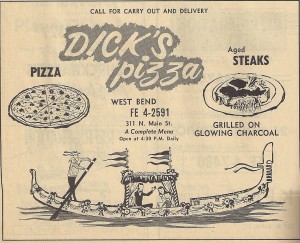 Jan. 1, 2018 – West Bend, WI – One of the most popular posts on WashingtonCountyInsider.com is the trip down memory lane regarding Dick's Pizza.  Enjoy.
Last week we posted some history about the old Pizza Joe's in Barton which sparked a conversation about Dick's Pizza. I dove into my archives and found a story from Around the Bend about Dick's Pizza closing – dated July 24, 2008.
After 50 years as an institution in West Bend's independent-restaurant community Dick's Pizza has closed. Employees were told early Thursday (July 24) that this would be their last night.
"It's just gotten to the point where it's not worth it," said owner Earl Richter who puts in 80 hours of work a week. "I'm ready to get out."
Richter has owned the Italian restaurant at the corner of 18th Avenue and Highway 33 the last five years although Dick's Pizza has a long history in the community.
"When I was little we used to go there very late and I would always order the spaghetti and fall asleep and I told my parents it was the spaghetti that would make me fall asleep," said Jodi Janisse who also remembered the 25-cent sundaes.
"That was our promotion for our 25th anniversary," said former owner Dave Wolf who remembered they had a very family-oriented business. "We supported a lot of teams like the water ski team and a lot of little league teams," said Wolf who ran the restaurant for 20 years.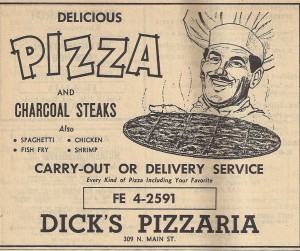 Bill Laufer grew up on Seventh Avenue and said it was always a big treat Sunday nights to go down to Dick's and get a pizza. "They were originally located downtown and then they moved to the far side of town," he said laughing. "Back in the day people were like, why are they moving way out there."
The original Dick's Pizza dates to the 1950s when Dick Turnquist opened on north Main Street near where Tastings Food & Spirit's is located. "In 1977 Turnquist started building the new restaurant on 18th Avenue but he was killed in a car crash three weeks before even opening," said Richter about the crash on Paradise Drive when Turnquist swerved to avoid hitting a dog.
An employee at the restaurant, Paul Schloemer became the new owner and ran the business for three years before Dave Wolf bought the pizza place in March 1980. Twenty-one years later in December 2001 Richter bought the business.
"We really grew the sales within the first three or four years," said Richter. "My sales were probably fifty percent higher than anything they'd ever done but all of a sudden one restaurant after another started opening in this town," he said claiming there are just too many eating places for West Bend to support.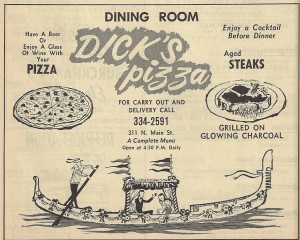 Richter rattled off a list of local restaurants that have recently met their demise including Ponderosa, Charcoal Grill, 50 States, Schultz's Whitetail Inn, Lisa's Café, Linden Inn, and there have been places bought and sold including the Mousetrap, formerly Blue Herron on the east end of Highway 33, Bagg End changed hands as did Long Branch Saloon and downtown The Grille closed where Café Soeurette opened. "West Bend has way too many restaurants," said Richter who qualified the transition period as abnormal. "I've never seen a town with this many restaurants versus the population."
SEVERAL FACTORS HURT BUSINESS…
Several factors led to Richter's decision to close including gas prices, the economy, and additional competition. "It kicked you a little bit but it wasn't anything you couldn't survive, we just weren't as profitable," said Richter noting there have been 24 new restaurants opened in West Bend the last few years.
Aside from more choices for the community, Richter said the increase in the price of gas hurt him. "We were flat with profits last year, but when gas hit $4 a gallon our business dropped 20% just like that," he said also blaming the rumor about a Walgreen buying up his corner at 18th Avenue.
"That hurt me with all the talk and all the rumors and it destroyed my gift certificate sales last year especially during Christmas." Richter confirmed the national drug store chain was looking at buying and building on the northeast corner however he claimed there was never an offer on the table.
In January however, First Weber Real Estate agent Bink Steinbach said a Chicago developer actually pulled their offer claiming the redevelopment of the site "was getting too expensive." Steinbach, the former owner of the Binkery was one of three properties along with Dick's Pizza that would have been sold for the development.
Richter made it clear, he was simply closing the restaurant. "I'm not going bankrupt or anything. I thought about selling but there's not a lot of interest right now." Richter and a partner own the building which will be for sale shortly. An auction is set for early August.
– – – – –
As we look for memories for Dick's Pizza we'll kick start the process by sharing some past posts from You Know You Are From West Bend  – a page run by administrator Terry Becker on Facebook.
Steve Schommer Dicks pizza, best broasted chicken in the damn world!
Don't think we ever had pizza there in all the years it was opened! Loved their ice cream scoop of butter, small loaves of bread and the 3 choices of dressing.
Robyn Homuth Hutchins I worked at the "new" Dick's on 33 & 18th….a Walgreens now….We served those little loaves of bread & the scoop of butter with every meal….Good Eating !!
Laurie Kraemer
My mom like to order the pizza AND the chicken and fries when family or friends were over on a Saturday night.
Nancy Mayer – I worked there for 7 years on Washington Street with a bunch of hard working nutty people but I had TONS of regular customers who I adored, some nights made a lot of $$$, but we worked for it fish fry Fridays were packed, also the sundae bar make your own for 25 cents was a big hit
Mary Spaeth- In reply to Christine. Inquiring if anyone that has the knowledge of the recipes that Dicks served would be willing to share with me .
Bob Herman – It was a great place to hang out in the late 50's and early 60's. The police didn't like us hanging around out front so we all stood in line to get a drink of water from the fountain on the sidewalk! They didn't like that either!
Christine – My son's favorite place to get ribs. And the magic man full of tricks. Build your own sundaes were amazing. I miss this place. The pizza was by far the best in the area.
Wayne Schmidt
Remember racing from Steve & Mary's to Dick's on Main to sober up on coffee & pizza. This was so I could drive home to Jackson with windows open & radio blasting to stay awake. Also, remember Eddie Plasik going from table to table sharing a joke for a free slice of pizza. Burned my tongue & roof of mouth on hot coffee & pizza one night. It sure made for a long hot summer day making fence the next day!!!
Tyler Riehl
Fond memories of Dick's . . . from the number tree on the wall that told their wait staff that food was ready, and of course the sundaes — but most of all I loved their pizza. Any chance the recipe is for sale? I'd love to figure out how to adjust it for Colorado altitude and make that pizza for my family!
chris kuechler
reunion would be great I was one of the first waitress in 1959
Josh Straub
I remember the unique metal spinning 4 flavor salad dressing stand they'd set at your table. With an excellent ranch dressing.

Also the dark green Creme de Menthe to make your sundae mint flavored, with Maraschino cherries on top!

Bill Esselmann
Were those little loaves of bread homemade or where they from a distributor

I would really love to get my hands on them.

Joe wirkus
I loved Dick's Pizzaria! When i was a kid once got my head stuck between the wrought iron railings…waitresses rescued me. But for years, the spaghetti andmeat balls, salad with that deep red french dressing, and cheese curds. Top it off with a .25 c sundae and a couple games od pac-man or galaga, and its a memory. Oh hey, does anyone remember the great wall of kids placemat colorings? And the penny wishing well at the entrance. Ill never forget this place for the rest of my life, and I don't think I even ever had the pizza!
Danna klumb
I remember after basketball and volleyball games we would go celebrate at Rock's.Also Art Lobotzke took all of parade clowns there after parades,so many fun memories of West Bend.
gary kuehl
in the 60's we would go downtown to dicks and wait in line outside. The pizza was outstanding.
Mary Kutz
Dick's was the best place ever to be at! It didn't matter if you were going with family or a group of teenagers going in for a pizza! As a girl growing up in West Bend we were well taken care of by the Turnquist family! Dick used to let us go with his daughter Kelly to set up the tables on Saturday mornings when we were kids! When we got done he would give us a dollar coin and let us go down to the Candyman and get candy boy that was one really big deal to me! As I grew up his daughters and everyone that worked at Dicks have touched my life so many times that I could tell stories for hours! I crave his lasagna so bad sometimes it makes my mouth water! Thank you to Dick and to Dave Wolf and all the people that watched out for us when we were kids and still to this day as grown adults! Oh how I wish I could eat some lasagna again! Rest in peace always Dick and Dave you gave us all better lives in all that you did for us and our Comunity!
Tony Wimer
I spent a few years on "odd jobs" prepping food. In theory, if one were to reopen a dicks pizza, I could probably draw upon the memory banks to recreate that menu. Just sayin.. ?
Victor Fronek
IT WOULD BE GREAT TO HAVE A DICKS PIZZA EMPLOYEE REUNION SOME PLACE SOME TIME!
Victor Fronek
I worked at Dicks for 13 years it was the BEST place ever ! At both places we gave a lot of kids there first jobs. To this day I have some that I worked with come up and ask me if I remember them from Dicks and then we start talking about the GOOD old days ,GREAT memories .The BEST part of Dicks on 33 is when we got to help get the Christmas parade going again to see all the smiles of the kids along the rout was OUTSTANDING THANKS DAVE! RIP Victor P.Fronek
Adam
My wife and I dated in high school and we went there every Saturday night and ordered the same thing… she always ordered the lasagna and I always had the filet….and nobody to this day could even come close to their pizza! We took our kids there all the time and when they closed they were heart broken! They kept asking "when is Dick's coming back"
Now that their older we still talk about how much we miss their pizza!
Shelly lewis
Dicks was my absolute favorite when I was little, I absolutely loved their garlic bread.! Any special get-togethers or birthdays I would always request to eat there. I have many many happy memories there. It was so sad to see it go and I do really miss it.!
Amy Marx
We have a lot of memories of Dick's pizza! We held our wedding rehearsal dinner there and celebrated many other family events with pizza and $.25 sundaes…good times.
Heather Klump
We would go for the great pizza, but as kids the best part was the ice cream sundae bar.
I remember it being such a treat.
Tony Wimer
Dave Wolf was the best, man! I remember he had a Lincoln (along with a few other cars) and he let me borrow it for Homecoming one year. He used to take us (staff) out on the lake and we'd go out on the boat tubing. I loved working there!
Justin DeLany
Met my wife, a hottie waitress, while I working there during Highschool.
Wendy
In reply to Wendy.I worked at Dick's pizza when I was in my teens. It was a great place to work. Miss the food
Wendy
I worked at Dick's pizza when I was in my teens. It was a great place to work. Miss the food.
Stacy Sitzberger Hanson I remember as a kid having to guard the door from people opening it. My sister had put her tongue on the frosty metal door handle during winter & was stuck. My Mom had to go grab a cup of water to release her.?
Amy Sitzy And I've never been the same since that day ??.Manage
Chris Theroux YOU'RE FLICK!!!! OMG this is too good!!!
Amy Sitzy Chris, watch it… I will find dirt on you!!! ??
Chris Theroux Amy Sitzy I bet there was dirt on the door handle….well before you licked it!?
Amy Sitzy Chris and that is why I am iron healthy. ??
Sally Cotter-Fellenz I'm going back to when Dick's Pizza was downtown. The pizza was and still is the best pizza I ever had but they also had a hamburger that they called a "deluxe combination" , it was delicious and came with a salad and baked potato, in the early 1960's….the price was 85 cents!!!
Denise Darlene They would deliver to Scenic Drive, which was "out in the country" then. Haha
Sally Cotter-Fellenz Yes, I always thought that we lived so far from town!
Debbie Fellenz-Roush I loved that my parents had an account with them. Us kids could just call up and order food for delivery when ever we wanted!
Mary Kuether Sally Cotter-Fellenz …what a great memory you have…guess I never had that but the pizza ? best EVER!!! Long time ago…
Sally Cotter-Fellenz Mary, i remember that so well because I have a funny story in my memory bank about it. Back in those days every penny went to bills having just purchased our first house, money was really tight. One night we had an extra $10.00 after the bills were paid. We went to Dick's and ordered 2 deluxe combinations and 2 sodas. The bill was $2.30 plus tax. When our waitress came to our table to collect, Chuck handed her the $10 bill. She reached into her apron pocket and started counting out coins, Chuck said " you can keep THAT change" meaning the coins! She said " FROM A $10? Thank YOU!!! SHE WALKED AWAY SO FAST! I said. "Chuckie, stop her!" He was too embarrassed. So we had to go home! After that he always said "She probably needed it more than we did!
Mary Jo Aceto My Mom talks about being downtown with some girl friends before Dick had even opened the restaurant and Dick inviting them in for some pizza… sort of a test run, if you will. She said it was as good that day as we all remember it to be!
Diane Hostetter Went to downtown one many moons ago …roommate lived in kewaskumand we'd take train from Chicago to West Bend and right to Dicks…later often enjoyed their pizza and25cent sundaes…. a Big hit with family!
Nick Koleas Driving past and saying, "I'm in the mood for some Dicks."
Kelly Briskie Three words: ice cream sundaes
Kelly Timple Used to go here for dinner with my dad, Frank Schneider, for " date night" A kid, growing up in the 80's. Was always so excited for ice cream, remember the scoop of butter, and salad dressing stand . Wish I could take my kids. Great place!
Angie Goehring Krueger I've never had spaghetti as good as Dicks always was. The .25 cent sundaes with all the toppings were my favorite. The little game room while waiting for a table with, I believe, Centipede game at the Washington location.
Jon Corbett My first job was at Dicks bussing tables. They were always willing to hire young employees and treated us very fair. I agree with all the previous comments about the food, but I'll add they had terrific mozzarella sticks! My brother, sister-in-law, cousins…all at one time worked at Dicks. It was a West Bend institution.
Brian Hillshafer First place we ate when we moved into town, 18 years ago. The sundae bar was the kicker for my wife. I also remember pulling up and reading the letter on the door when they closed…. Kristin Glaser Hillshafer
Sharon Filo My husband and I just talked about Dicks two days ago. I said if he was still open we would of gone there New Years Eve and order my favorite meal that small steak sandwich with warm loaf of bread and salad. Miss that and the pizza.
Mike Falkner The mini loaf of bread was always good. .25 sundae was always a must. I remember going to the downtown Dicks with my older cousin late on a Friday night.
Curt Biltman I used to work there and we would make donuts with extra pizza dough. They were….. different. Also used to have arm wrestling contests in the basement with other employees! Lots of memories from there.
Nancy Mileskris worked there for 7 years on Washington Street best, most fun job ever, a real cast of co workers that were nutty but hard working,,, I had TONS of regular customers who I adored, some nights made big $$$$, but we worked for it, fish fry Fridays were ja…See
Jeanne Krueger- Bonlender My parents always went there after bowling. We were in there when the big tornado hit West Bend. I remember the construction trailer, from the hey 33 road construction, flipping end over end down 33. The tornado sirens went off and the owner of Dicks Pizza had us all go into the basement/wine cellar. It was scary.
Lila Gauger Johnson Their ranch dressing. We always went there after Friday night grade school basketball games! Ranch with salad, pizza, bread, whatever I could…..tried to get them to let me buy some or get the recipe! And the sundae bar to finish the meal! Oh I miss that place!
Scott Blackford I still talk about Dick's Pizza today to my wife and Daughter. I remember when my parents would take my Sister and I and how we always looked forward to it. This was back in the late 70's early 80's I believe. Great memories!
Susan Crysdale Kist Just last week I ordered potato skins at a restaurant. After I began eating, I remarked that they didn't measure up to the ones Dick's Pizza had and wished I could find some that did.
Jolene Gundrum My friends and I would go to Dicks after the movies and have pizza the best Pizza ever til this day you can't find a better pizza still my favorite give anything to have a Pizza like that again
Jackie Schmidt-Lochen I miss their mini loafs of bread and they had the best ranch ever! My dad loved their pizza complains all the time about not having any pizza joints around here taste like Dicks
Lauri Ringgenberg Their thin crust pizza cut into squares and 25 cent sundaes. Like root beer is with A&W, pizza and sundaes were for Dick's. Great family dinner night out!
Dale Nierode Best lasagna ever….this is what they need in West Bend….another Dicks…get the origanal recipes and start it up…
Christine Shaver Esselman I worked there for 4 years, while it was owned by Dave Wolf and George Mueller!!! Could not have worked for better people!!! I miss it!!
Diane Kahlscheuer Banaszak Their house dressing and lasagna were the best ever. Gathered there many times with high school friends. Great memories.
Mary Crass Sally I remember that "Deluxe Combination"after the salon closed on Thursdays we would go to Dick's Great fun memories.
Naomi Hanson Schueller I just reminded my sister of the sundae bar the other night and how we filled our glasses to the top with everything!
Dean Endlich I️ remember as a kid going to the original location downtown. It was such a treat for us! Pizza was always amazing!
Susan Stevenson Best pizza in town, or anywhere, ever…period…no place has ever even come close, miss the sundae bar too…
Mary Walters ❤️ Dicks. Loved their pizza and lasagna.
Candy Sharpe The little loaves of bread.
Debra Ann Dicks was the best pizza in town! I have not found another that I like!
Michelle Classey The closest you will come to Dicks Pizza is Maricio's in Barton. It's really very good!
Debra Ann I will have to try it!
Lori Weiss Awesome bread!! The food was so good.I remember when a magician worked the room while we ate.
Laura Bartelt Miss the sundae bar…… A lot of childhood memories there!!
Walt Brenda Grotelueschen I loved they pizza and lasagna and don't forget the Sunday bar
Kris Chesak Pansing Sunday afternoons/early evenings with my family,,,,,
Best pizza EVER!
Bonnie Wenzlaff We ordered a pizza every Sat night after doing the Nightwatch request program on WBKV fm.
Senny Petri I remember when it was downtown and someone would always drive thru the front door!
Marles J Biskobing The pizza was the best along with the other food they offered. The atmosphere was nice too.
Jamie Harbison Their amazing bread and delicious lasagna
Jo Uriniuk Best pizza and loved tenderloin sandwich with baked potato!
Kerri Schultz Best pizza i ever had, 100s of times. Crab legs to die for too.
Lois Geib Guse A favorite hangout while in high school and long after, great pizza and other food too!
Mary Stremlau HUGE treat when Grandma and Grandpa would take us. A & W after. Wonderful memories.
Robin Nett We went for my graduation for the first time. My dad got only cherries from the sundae bar because they were so good.
Kay Sheski When I first moved to WB best steak dinner. As I had a family, best pizza we all talk about it
Carmen Lujan Butschlick Our class walking to Dicks from Holy Angels for sundaes we had earned as a reward.
Lynn Biertzer Loved the $.25 sundaes there as a kid!!
Scott Pudwell Playing Joust in the coat room was always fun as a kid as we waited for a table
Stephanie Fuller- Dixon They had a magician on certain nights that would go to tables and entertain kids.
Amanda Larson That was mine and my husbands favorite pizza place. We even had our rehearsal dinner there.
Sami Schoep I remember going there as a kid….sundae bar!!
Natalie Bicknell The 25 cent sundaes the best and couldn't find a better pizza
Jane Klass-Morisse My two favorites there as well, Diane Kahlscheuer Banaszak! Great minds… ?
Jenny Crawford Jessica Holtee didn't we have your rehearsal dinner here?
Jessica Holte Oh my, I'm pretty sure we did! Wow, it seems so long ago!
Debbi Grotelueschen One of our favorite places to go. With my daughter Jessica Dachs-hoffmann when she was Lil girl.
Jodi Oswald Jensen Tracy Rein, ….you know…..?
Tracy Rein Bahahaha this just made my day!
Donald Fellenz Next time I come in town I'm gonna check them out
Leslie Lawrence Carpenter $.25 make your own Sundea bar?
Lynne Reigle Klein Never found as good a pizza!
Megan Miller I miss Dick's SO much.
Christine Ann Miss this place.
Nancy Wiedmeyer I have many memories of Dick's. A group of women went swimming every Wednesday night at the High School pool and the stopped to have one of his burgers after. Best burger EVER!
Diane Schmidt-Mansavage Any pictures???
Betty Rose-Limbach Miss Dick's Pizza
Best pizza ever
Jodi Raketti I loved it!! Best lasagna ever!!
Lynette Fochs Loved there barbecue chicken
Cindy Wolf Miss their Pizza!
Charlaine Kell My husband and I met there when I was a senior in high school and started working as a waitress. He was the pizza cook at the time. We were married a little over a year later and Dick Turnquist was in our wedding. That was 46 happily married years ago.
Cheryl Beck-Schreier We used to go there after the weddings and have late night pizza it was the greatest all the time… wish Dick's Pizza could come back in town
Stephanie Striegel Poree Wonder if the original recipes are for sale and if anyone could revive it? I mean there are already a ton of pizza places in West Bend and Hartford too
Stephanie Striegel Poree Best pizza, amazing lasagna and who could resist the 25 cent sundaes?!?! My mom loved the Long Island iced teas from the bar
Jerry Goratowski Great steaks
Cody Faul Thank god we have Maricio's for that thin crust pizza cravings. But that $.25 ice cream bar, that I miss
Jessica Vander Heiden The sundae bar
Jeff Grotenhuis Chad Hoopman. Shall I share?
Amy Schoeder Yes pleaae
Wendy Muckerheide James Russell worked there
Susie Graff Loved going there when it was downtown, such good food
Lori Hostetter Stauske Diane Hostetterr Kari Holland. Kristi Hilgart
Mary Helm-Bumpke My husband worked there for 2.5 years. He talks about it to this day
Sandy Zernia Loved Dick's pizza,lasagna,little loaves of bread,and the sundae bar.It really was the best.
Diane Schmidt-Mansavage GREAT fish fry
Advertisement pictures courtesy Steve Kissinger