VIDEO | 25 Runs of Gratitude exceeds expectations

Dec. 31, 2018 – Washington Co., WI – More than 200 people gathered on Silverbrook Drive in West Bend on New Years Eve Day to help Pete Rettler celebrate the completion of 25 Runs of Gratitude.
It was Rettler's way of putting a bow on his accomplishment of running every day for 25 years and a way to celebrate a successful fundraiser for local nonprofits and the United Way of Washington County.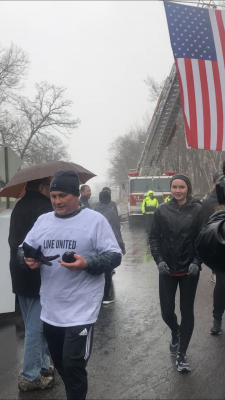 Click HERE to read more about the sponsors and 25 Runs of Gratitude.
To date Pete Rettler's 25 Runs of Gratitude have benefited the Boys & Girls Club, Interfaith Caregivers of Washington County, Easterseals SE WI, Big Brothers Big Sisters of Washington County, Kettle Moraine YMCA, Elevate, Friends, Inc., Family Center of Washington County ,Consumer Credit Counseling Service, Inspire Washington County ,Youth and Family Project,  Albrecht Free Clinic, Casa Guadalupe, Senior Citizen Activities, Inc. and the American Red Cross SE WI.